"I found these series of training and workshops have really helped me in preparing for disasters and boosted my confidence to play an active role in ensuring the safety of my students in the event of a disaster", Ms. Riski Nurilawati, a teacher with a visual disability at YPAB (School for Students with Visual Disabilities).
Ms. Riski was one of the YPAB teachers who participated in the Global Future Cities Programme (GFCP) Earthquake Resilience pilot project that aimed to strengthen school and community capacity in Surabaya City for earthquake preparedness. As a teacher with a visual disability, who had been totally blind since birth, Ms. Riski felt all skills introduced through the piloting process empowered her not only as a teacher, but also in her daily life. The session on earthquake and fire rescue techniques made a deep impression on Ms. Riski, who loves to cook. According to her, this skill significantly increased her self-confidence, not only at school but also when cooking at home.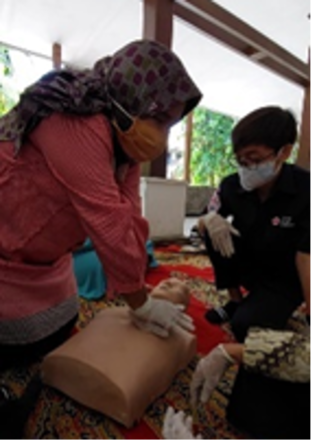 Ms. Riski practicing first aid during an emergency response training session at YPAB
Another teacher, Ms. Siti Muhimmah, found her voice and confidence after participating in these activities. Though she was slightly timid at first, she was finally confident enough to lead a group of teachers and students in the evacuation simulation. She also took charge of finding alternative solutions for a student with a visual disability who had physical difficulties in practising Drop, Cover, and Hold as part of the training.
"At first, I was hesitant, but after receiving an introduction and had the opportunity to practice it, I felt empowered. Now I know what to do when disaster strikes and how to prepare my students and others", said Ms. Siti Muhimmah, a teacher at YPAB.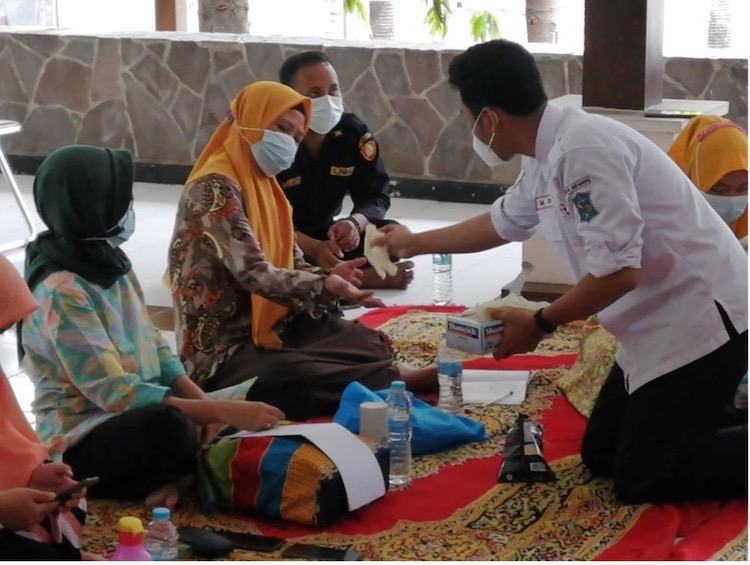 Ms. Siti Muhimmah getting ready to lead a group of teachers and students in an evacuation simulation at YPAB
Ms. Riski and Ms. Siti were later identified as champions for earthquake preparedness and emergency response as a result of the piloting at YPAB.
As part of the piloting process, the capacity enhancement activities were carried out in June, September and November 2021 at YPAB. Approximately 17 teachers participated in the activities (53% of them were women), and 12 students participated (42% of them were girls). The activities were tailored to increase the participants' knowledge and skills in carrying out initial emergency responses independently, both as individuals and as a group, immediately after an earthquake or other disaster. The activities were also the first for people with disabilities in Surabaya City. Hence, both trainers and participants learned a lot from each other.
We highlighted these activities to celebrate Women's History Month 2022 as they demonstrate that involving women in disaster risk reduction efforts, especially women with disabilities, not only empowers them, but also their community and their students. It is also in line with the UNDRR Strategic Framework 2022-2025 that pledged to leave no one behind by integrating human rights, gender equality, and the rights of persons with disabilities into disaster risk reduction:
"UNDRR supports gender-transformative disaster risk reduction that identifies and meets the different needs of women and girls, men and boys, and seeks to redress the underlying causes of vulnerability by putting women's resilience at the centre of disaster risk reduction strategies, policies and programming in order to promote women's leadership and achieve gender equality. ... also requires all disaster risk reduction to integrate disability perspective and promotes inclusive risk-informed decision making." (UNDRR Strategic Framework 2022-2025)