Background on public transport accessibility
Located in the south, Ho Chi Minh City (HCMC) is the largest city in Vietnam and has a population of over 8.9 million. The city is undergoing a period of strong economic and population growth; as it is Vietnam's economic and financial hub, it attracts migrants from other provinces.
To many inhabitants of the city, motorcycles are the most convenient means of transport as they provide flexible, low-cost, and door-to-door mobility for most of their trips, whilst the climate of Vietnam allows the use of motorcycles throughout the year. Car usage and ownership have also been on the rise, driven by Vietnam's economic growth and the resulting increases in disposable income. Despite disincentives from heavy import duty fees and registration fees, growth in the size of the private vehicle fleet continues.
Public transport services are currently limited, with buses and water taxis providing the main alternative to private ownership of transport – an imbalance in the modal share that adds to economic inequality and contributes to poor access to opportunities among disadvantaged groups in society.
However, the situation is starting to change, with a wide range of large-scale investments in public transport infrastructure and other directly related initiatives across HCMC. For example, the intended implementation of a city-wide Smart Ticketing System (STS) is designed to encourage and enable interoperability amongst independent, smart ticketing systems being implemented and planned. The aims of the STS initiative will not only ensure a wide variety of payment options to serve passengers of all backgrounds meeting gender and social inclusivity principles, but it potentially enables a user's choice of a ticket to be used in any mode of transport. Implementing a city-wide STS scheme also aims to optimise public transport routes by enhancing collaboration amongst existing bus operators while enhancing the reliability of public transport to increase ridership to meet stated public transport mode share targets. The data collected will also help HCMC realise its long-term smart city ambitions, benefiting all residents and visitors.
In Vietnam, access to public transport is limited by many social challenges, also visible in many other economies. Persons with disabilities (PwDs) have access to discounted tickets, exemptions and reserved seating. However, despite the broad recognition of PwDs, they remain a marginalised group in society and continue to suffer from limitations in access to public transport. For example, for the physically disabled, barriers to mobility range from uneven pathways and lack of wheelchair ramps to bus interiors that are inconveniently restrictive. Also, the existing public transport system does not fully support the blind and the deaf/hard of hearing due to a lack of appropriate training of staff on public transport and poorly designed communications channels, amongst other restrictions.
Our responsibilities
Based on the Terms of Reference published by the Foreign, Commonwealth and Development Office (FCDO), the subsequent Implementation Report and the output of Task 6 of the STS intervention, we conducted consultations, focus group discussions and online surveys. These served the larger objective of providing insights into the specific contexts and dynamics of the STS intervention, and how women, men, older persons and PwDs are affected by this project development. These insights helped the team understand the needs and priorities of users and non-users in public transportation; and craft effective strategies for meeting users' practical and strategic needs, within the various GESI groups. 
Consultations to understand barriers and preferences
At the beginning of May 2021, we commenced consultations with representatives of DRD (Center for Research and Capacity Development for Persons with Disabilities), Representatives of District/Wards Women's Union and representatives of IET (Institute of Environmental and Transportation). We also conducted focus group discussions with women, men and vulnerable people (poor people, elderly, and PwDs) in District 4 as one of 3 selected Districts, and disability groups (visually impaired, hearing impaired and mobility impairment) from members of DPO (Disabled Persons'  Organisation) where we listened to their views to identify the barriers they face on public transport. Such barriers would contribute to barriers to job opportunities, social activities, and establishing more meaningful relationships with their families and integration into society and in general.
Due to the continuing impact of Covid-19 in Ho Chi Minh City, it was not possible to conduct focus group discussions with people in the remaining selected Districts, as originally planned. Therefore, in December 2021, we developed a set of questions for an online survey to collect more information on GESI with people living and working in HCMC about using the public transport system and its planned Smart Ticketing System (STS). The complementary online survey was open to all residents of HCMC over the age of 15 years old; however, we were particularly keen to hear from residents of the study area districts. 
There were three topics selected for discussion during the consultations with focus groups and representatives from organisations and online surveys, such as:
Knowledge, attitude and perception of the STS (e.g. the travel behaviour of the users and non-users, the difficulties faced in accessing public transport, the level of awareness of smart ticketing, and the opinions of disabled people, women, men, older persons as well as vulnerable people, about what information they would need to be aware of and use smart ticketing);
Stated needs among user groups (e.g. the most significant challenges and barriers faced by women, men, older persons and those that were most economically disadvantaged in the context of public transportation usage; how they use and interact with the transport system currently; how they currently pay to use public transport; how the ticketing system could address travel patterns; discussions to elicit suggestions on how best to mitigate the risk for consultees from being further excluded as a result of the implementation of a city-wide smart ticketing regime); and
Travelling on two or more types of transport (e.g. users' opinions or expectations on the types of smart tickets consultees would be willing to use, willingness to have more than one, such as a mobile phone-based ticket and a smart card for a trip; gaining an understanding on their use of the Internet and mobile phone to manage a smart ticketing account; preferences to have a card that can be topped up).  
Analysis and insights gained – putting these into practice
The use of a public survey plus direct consultations aimed to secure direct feedback from women, PwDs and other socially excluded groups and ensure that these groups we fully represented in our broader findings. Earlier consultations had already contributed to developing the Technical Standards Framework that will underpin interoperable STS in HCMC and the development of recommendations on fare policy.
Our team managed to successfully conduct focus group meetings with a total of 75 participants interviewed across the survey. 56% of participants were female, and 44% were male. There were 39 PwDs, of which 11 were visually impaired, 11 with full or partial hearing disability and 17 with mobility impairments. Groups consisted of students, teachers, employees of various organisations, lottery ticket sellers, and housemakers. The consultation sessions resulted in many feasible, actionable solutions and allowed all participants to voice their sincere hope for improvements in the public transport system that will eventually reach the mobility impaired and other disadvantaged groups throughout HCMC.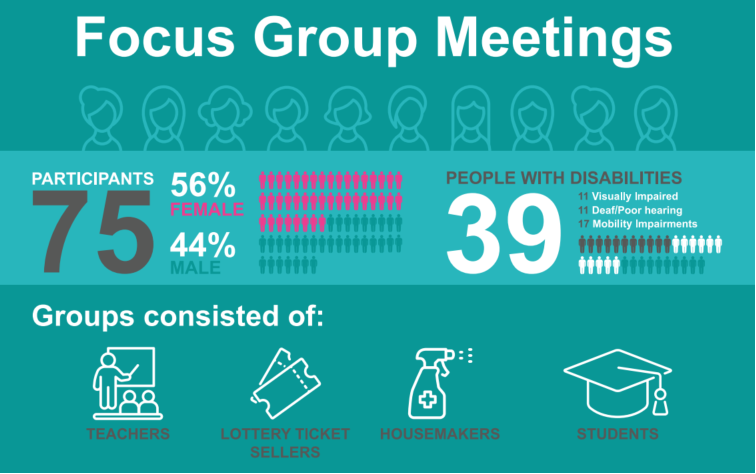 From the online survey, there were 140 respondents, split between 55 men (39%), 84 females (60%) and 1 person who identified themselves as being a member of disadvantaged or vulnerable groups.
The analysis of the in-depth consultations and the complementary online survey confirmed that the mode share of public transport amongst working-age subjects remains limited, pending the realisation of planned (and ongoing) improvements in transport infrastructure and other connectivity enhancing measures such as interoperable smart ticketing.
Based on the results of the consultation aimed to understand the views of women and vulnerable users on public transport in general and smart ticketing. The results have led us to make the following recommendations:
The development of any future public engagement strategy (relating to public transport in general or smart ticketing) needs to raise awareness of access to public transport and its benefits, including general health protection and the decarbonisation of transport in general;
As part of any public engagement strategy, develop an extensive awareness campaign exploiting a wide range of communication channels and social networks that addresses and mitigates the potential for discrimination against PwDs and is supportive of their access to and use of public transport for the visually, hearing and mobility-impaired users;
Provide sufficient information and detailed instructions to PwDs to raise awareness of the benefits of public transport and large scale investments (and this could include the benefits of STS as a convenient means to pay for public transport);
Ensure a wide variety of payment options to serve passengers of all backgrounds meeting gender and social inclusivity principles, provide discounts where relevant, recognise the needs of the unbanked, those with unpredictable disposable incomes, and everyone who lacks access to the Internet or who do not have a smartphone; and
Provide training for transport sector officials, drivers and staff to support PwDs, older persons, pregnant women or women with children to improve awareness of the needs of these stakeholders and related regulations;
The intervention team would like to thank everybody who contributed. The ability to provide access channels to the vulnerable and the disadvantaged to articulate their views and share critical insights and personal aspirations was paramount to the study. This was essential to provide meaningful, actionable recommendations and helped strengthen the foundations for the later stages of our work in HCMC to make sure that no one will be left behind in the development of mobility options for HCMC in the long term.