Entering 2022, the GFCP team aims to establish further communication with Bandung's City government. The team's efforts are a continuation of the latest audience meeting with the Bapak Anton Sunarwibowo, Head of the City Planning Agency, and Ibu Tammi lasmini, representing the Head of the Steering Committee, concerning the updated progress of the intervention and the recommendation towards the implementation of an integrated public transportation system in Bandung. The key aspects of the recommendations that were conveyed included the proposed development of integrated public transportation within the regional medium-term planning documents, the implementation of a pre-trial phase, and establishing a mutual understanding with the existing operator leading towards the existing public transport transformation road-map.
As part of the team's efforts to communicate with Bandung's City government, the team conducted a meeting with the City transport agency, which the steering committee appointed in the last meeting. The meeting attendees included Bapak Ricky Gustiadi, Head of the Transport Agency, and several officials from the Transport Agency. Forming a strong relationship and communication pathway with the City Transport Agency will be critical because the Agency will serve as the implementation unit of the proposed recommendation.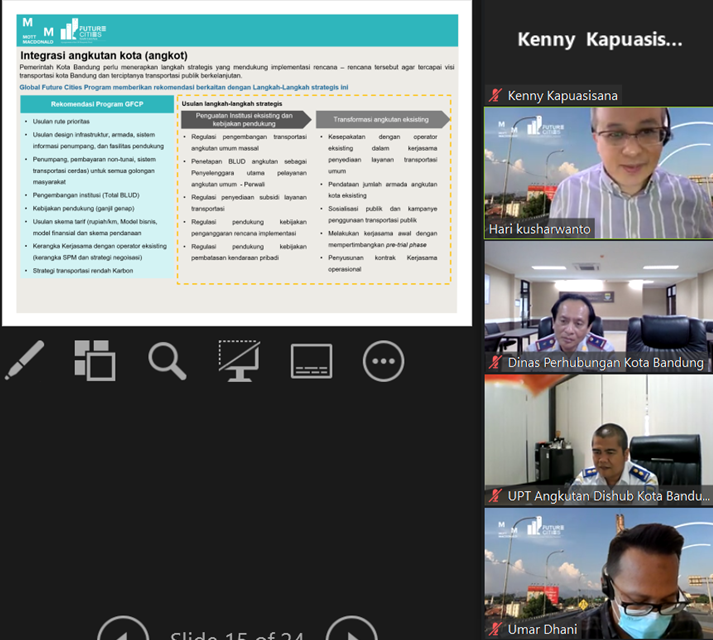 Screenshot from meeting with Bandung City Government
Based on the discussion, several points were captured. Namely, the Agency confirmed some of the programme recommendations to be included within the annual revision of the city transport agency's strategic planning in 2023.
The Agency expressed that the recommendation regarding transforming existing public transportation in Bandung is a win-win solution for all the relevant entities (government and existing operator). Most importantly, the recommendation will help the City embrace the ongoing Bus Rapid Transit (BRT) development programme under provincial administration. Furthermore, the West Java Province Transporation Agency has expressed keen interest in learning about the process of integrating public transport systems, based on the GFCP's experience in Bandung.
Lastly, the Agency expressed an expectation of further involvement from the GFCP team in disseminating the proposed recommendation, particularly on the existing public transport transformation and synchronisation with the provincial BRT program.
The team's interactions with the Agency is beneficial for the programme, as the City has initiated steps towards operational improvements of Bandung's public transport system. These include firming up its angkot registration inventory, piloting its angkot conversion project, and angkot rerouting, which are all in line with the GFCP implementation plan. The adoption of the GFCP implementation plan by the Bandung City government is a clear step forward towards establishing a sustainable public transportation system in Bandung.