Cities that work for everyone
Capacity development component of Global Future Cities Programme commences
Nairobi, 21 January 2021 – "Cities are at the frontline of delivering the Sustainable Development Goals; national objectives will be delivered by cities" asserted Marvin Rees, Mayor of Bristol, the 11th largest city in the United Kingdom (UK), in a learning webinar. Contributing alongside Marvin Rees, Professor Sir Paul Collier, Director of the International Growth Centre, further emphasised that "successful urbanisation is nationally important."
These two contributors were speaking at the first in a series of capacity development activities being delivered by UN-Habitat and led by the UK Built Environment Advisory Group, strategic partners of the Prosperity Fund Global Future Cities Programme, directed by the UK's Foreign, Commonwealth & Development Office.
More than 250 participants joined the engaging session, from the 19 cities across 10 countries involved in the Programme, and included representatives of city authority, civil society and the private sector, as well as others involved with successful delivery of the Programme.
The aim of the capacity building series is to support learning and knowledge exchange across cities as they implement 30 critical urban projects to spur sustainable development, driving prosperity and alleviating poverty.
Drawing parallels with the 19 cities involved in the Programme, Rees presented Bristol as a city of contradictions – lauded as the UK's 'smartest city' but one in which 20 per cent of children are at risk of hunger. Describing his own childhood in Bristol, growing up in a single-parent household and reliant on government financial assistance, Marvin Rees outlined specific practical steps taken by his city authority to develop and implement its 'One City' plan to create a fair, healthy and sustainable city, where everyone can share in its success.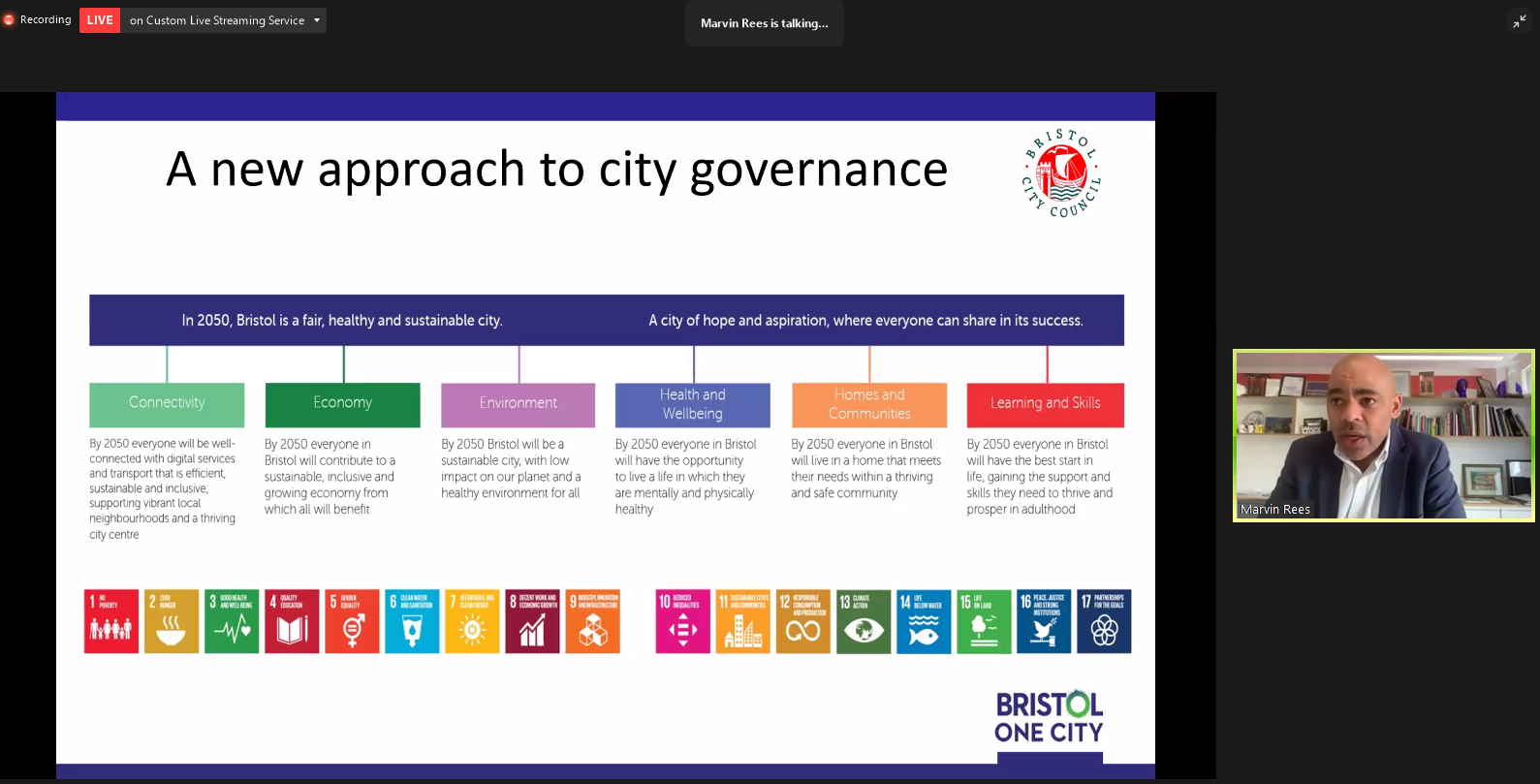 Paul Collier shared that "visions of the future are easy; what is needed is a practical city-level strategy of how to get to that vision" and listed five key features of such a strategy, evident in Bristol's plan. Among these was that the strategy needed to be informed by a range of stakeholders, and that this must be an ongoing process of listening and adaptation, so the strategy is continuously adjusted with monitoring and evaluation.
This resonated with session participants as they currently implement their urban projects, following the completion of a strategic planning phase involving many stakeholders from their respective cities. The 30 urban projects, implemented through the Global Future Cities Programme in emerging economies of Brazil, Indonesia, Malaysia, Myanmar, Nigeria, Philippines, South Africa, Thailand, Turkey and Vietnam, uniquely address specific challenges within four broad categories: strategy and planning, mobility, risk and resilience, and data systems.
Just as Bristol has associated its One City Plan with the achievement of the Sustainable Development Goals (SDGs), UN-Habitat has supported the 19 cities of the Global Future Cities Programme to similarly align their selected urban development projects. The SDG Project Assessment Tool, an instrument developed by UN-Habitat, has been used to help guide cities as they develop urban projects to be more inclusive, sustainable and effective.
To find out more about the Global Future Cities Programme and the SDG Tool, visit globalfuturecities.org/sdg-project-assesment-tool.
A recording of the session with Professor Sir Paul Collier and Mayor Marvin Rees can be found here.
To engage in global conversation on sustainable urban projects, join the Global Future Cities Programme's Community Forum.