The transformation which will improve the quality of life for Istanbul residents was announced to the public on 28 March 28th, 2022. The Istanbul Sustainable Urban Mobility Plan (SUMP) has been developed by the Istanbul Metropolitan Municipality (IMM) within the scope of the "Global Future Cities Programme Turkey" supported by the United Kingdom Foreign, Commonwealth and Development Office (UK FCDO), UN-Habitat as their strategic partner, and the world's leading engineering and technical consultancy firm Arup. The Istanbul SUMP, which constructs a human-oriented transportation system compatible with Istanbul's unique geography and historical values for a sustainable future will be the first of its kind in Turkey, and also the first SUMP in the world in a megacity with a population of over 16 million.
We have been working for two years on the Istanbul SUMP with the vision of an innovative and inclusive system focused on people and environment for a sustainable future," - said the Mayor of IMM Mr. Ekrem İmamoğlu during the launching event and announced the targets to be achieved with the proposed projects and improvements within the scope of this plan.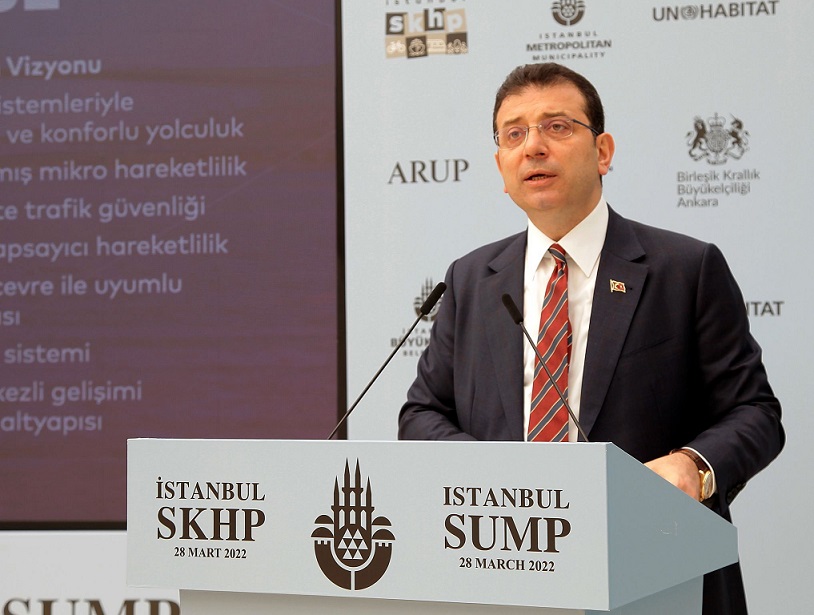 The Mayor of Istanbul Metropolitan Municipality Mr. Ekrem İmamoğlu at the launching event
The launching event was hosted by the Istanbul Metropolitan Municipality, the Mayor of Istanbul Metropolitan Municipality Mr. Ekrem İmamoğlu, British Consul General Istanbul (and HM Trade Commissioner Eastern Europe and Central Asia of United Kingdom), Mr. Kenan Poleo, Mayor's Advisor Mr. İbrahim Orhan Demir, SUMP Local Team Leader Prof. Dr. Haluk Gerçek, and UN-Habitat Advisor Ms. Yelda Reis.
The Istanbul SUMP was prepared to bring a new perspective to conventional transportation planning in Istanbul and to realise a sustainable transportation system focused on people and the environment. NGOs, professional chambers, Universities, experts, public and private sector representatives related to transportation, transportation system operators and other relevant stakeholders participated in the study.
Mayor Ekrem İmamoğlu further emphasised that "Istanbul SUMP is strictly people oriented. It is a study that aims to implement sustainable transportation modes in this city, which is carried out strictly with the principle of inclusiveness and acts with these principles, in an integrated manner. I happily state that our plan is the first sustainable urban mobility plan in Turkey, and the first among cities with more than 16 million in the world".
On behalf of the UK FCDO Global Future Cities Programme Turkey, Consul General Istanbul and HM Trade Commissioner Eastern Europe and Central Asia of United Kingdom, Mr. Kenan Poleo, acknowledged that "Moving around this majestic, historical, great, amazing city, can be something of a challenge as we in the UK have found with our own big cities, including London. Dependency on cars is not a viable long-term solution for the needs of all our citizens. […] So, a new approach is essential. An approach that aims to deliver a transport system that's accessible, affordable, integrated, and inclusive. One that is environmentally friendly and sustainable, one that is economically sustainable and resilient rather like the city of Istanbul itself. And I sincerely hope that we have got a collective view that we have helped develop such a plan for Istanbul. So, over time we could reduce traffic volumes and congestion, have even more use of public transport and even more use of walking and cycling."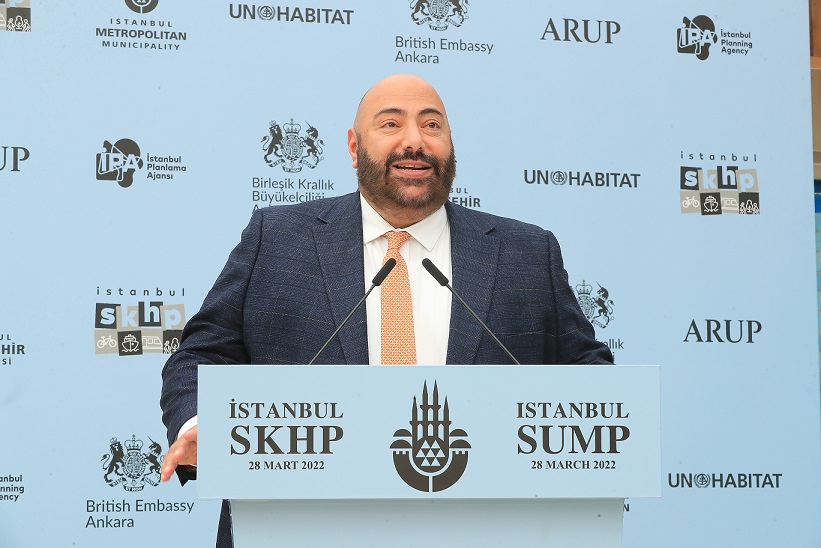 Mr. Kenan Poleo at the launching event
The strategic partner of the Programme, UN-Habitat's Advisor Ms. Yelda Reis stated that the programme contributed to the realisation of 11 out of 17 UN Sustainable Development Goals (SDGs), and that 26 main projects within this scope will increase the sustainable development level of Istanbul. She hoped that Istanbul SUMP would set an example for other SUMP projects that are being prepared in Turkey and around the world in many ways.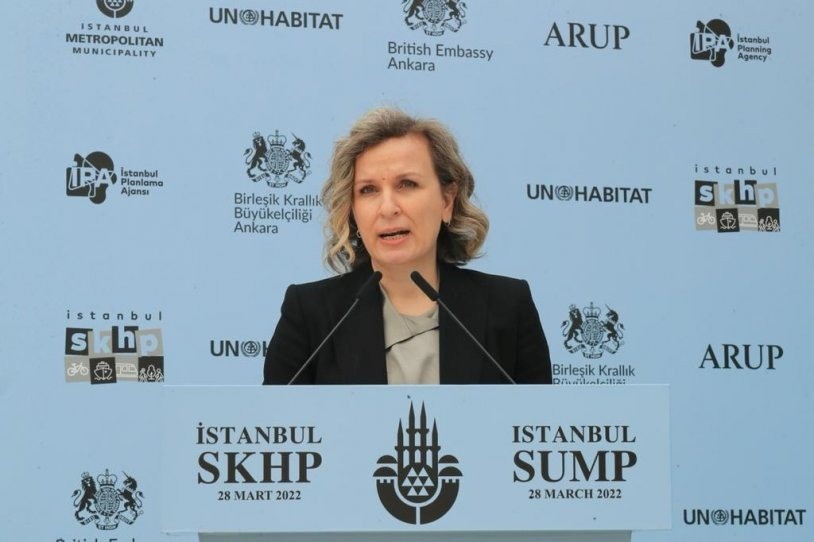 Ms. Yelda Reis at the launching event
The aim of the Global Future Cities Programme in Turkey is to create safe and resilient urban environments that enable comprehensive and sustainable economic growth. Sustainable Urban Mobility Plan Local Team Leader Prof. Haluk Gerçek assured that "the Istanbul SUMP will reduce traffic congestion and enable people to easily access their business, education, health services and other needs. Another important feature of the Plan is that it includes social inclusion and gender equality (GESI) at every stage of the planning and implementation processes."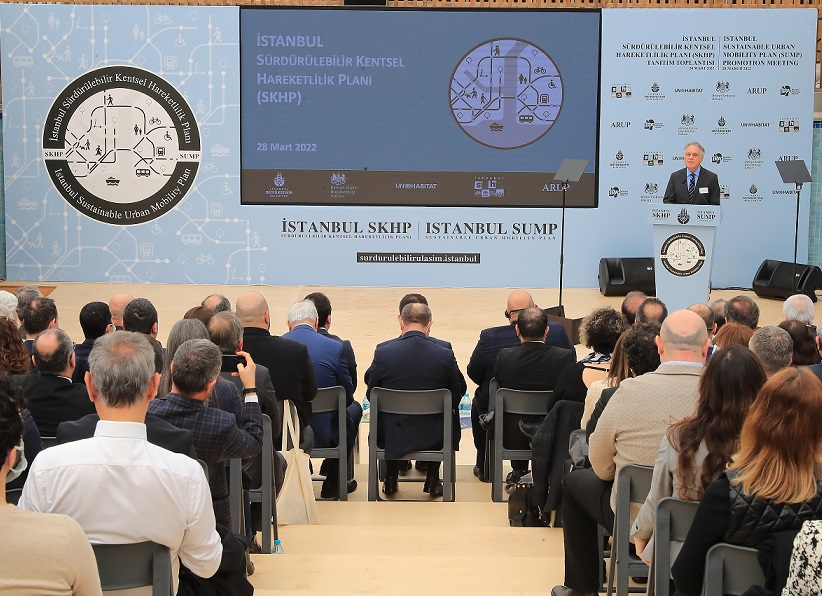 Prof. Haluk Gerçek at the launching event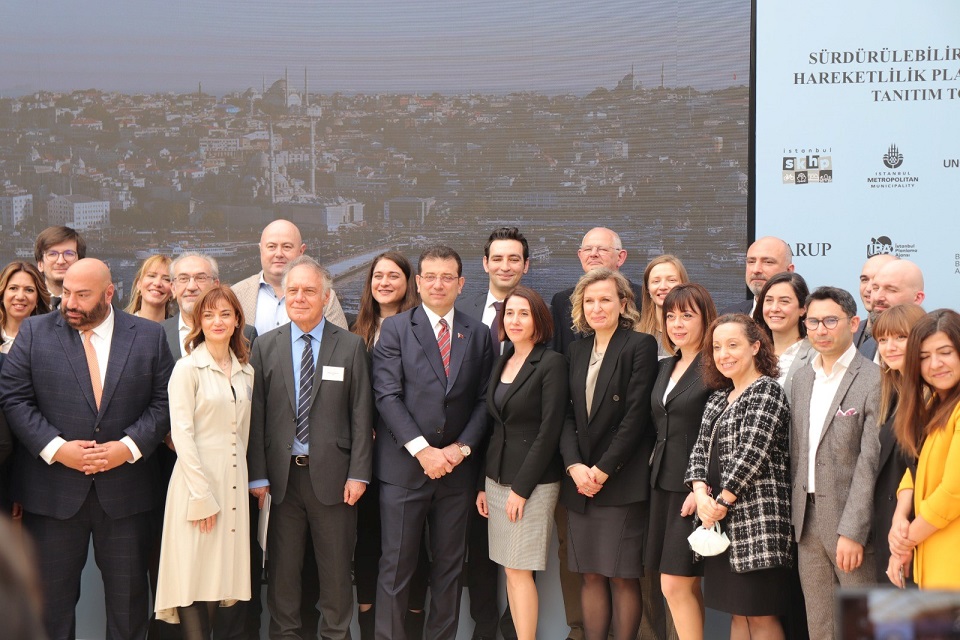 More about the event please see local media reports:
The Global Future Cities Programme is a technical assistance programme that aims to promote inclusive, sustainable urban economic growth, global well-being, and social equity in 19 cities in 10 countries around the world. The programme, which also creates significant job opportunities in cities in the short and long terms, focuses on urban planning, transportation, and resilience, while contributing to the emergence of the cities of the future in the field of urban innovation.
The Istanbul SUMP, which has a mixed structure for a sustainable future, consists of safe and affordable mobility options that are compatible with Istanbul's unique geographical and historical values in order to provide a better quality of life. It aims to create a human and environment-oriented transportation system. With the projects and improvements proposed within the scope of Istanbul SUMP, it is aimed to shorten the total time spent by people of Istanbul in transportation in 2040. In 2040, while the share of the rail system in public transportation is expected to increase to 47%, it is predicted that 70% of daily journeys will be made by public transportation and on foot. With the Plan, which targets zero deaths in traffic accidents in 2040, it is aimed to reduce carbon emissions from transportation by 60% in 2040 and to zero in 2050.
Some of the benefits of Istanbul SUMP, which aims to increase the quality of life and sustainable mobility of Istanbul residents in line with the Istanbul Climate Vision and to support Istanbul's goal of becoming a carbon neutral and climate resilient world city by 2050 are:
Implementing projects for the decarbonisation of the BRT (Metrobüs) and IETT bus fleet,
Developing the integration of public transport within itself and with other modes of transport,
Decreasing dependency on automobiles and traffic congestion,
Establishing low emission zones that will reduce automobile use, carbon emissions and air pollution in the central areas of the city,
Reducing the use of private vehicles in the central areas of the city through parking lot management and traffic calming projects,
Implementation of projects that will improve pedestrian and bicycle transportation,
Continuing projects to expand the rail system and to increase the integration of maritime transport,
Ensuring more use of public transportation and active transportation types, going for human-oriented solutions instead of automobile-oriented projects,
Encouraging walking and implementing projects that will enable citizens to have safe and enjoyable time in the public spaces,
Enabling easier access to transportation services and daily activities for everyone living in Istanbul, making this experience economical, environmentally friendly, and safe,
Enabling 'sustainable urban mobility' covers all layers of society.