On 20th January 2022, as part of the Global Future Cities Programme (GFCP), delivery partner Mott MacDonald in collaboration with UN-Habitat Vietnam and the UK Foreign, Commonwealth and Development Office (FCDO), successfully facilitated the 11th Technical Webinar for the Ho Chi Minh City. The webinar focused on capacity building on resilience interventions by sharing experiences across the region and globally, connecting the HCMC city authorities and engineering community with global specialists. This event was attended by approximately 100 attendees, who were from the Vietnamese local government and the engineering community.
The theme of the webinar was "Social Impacts of Climate Change", and it featured presentations from the UN-Habitat Vietnam Country Director, Mr Jonghyo Nam, Mott MacDonald Indonesia GFCP Team Leader, Mr Francois Bernard Brikke, and the Song Foundation's Programme Manager Ms Do Thi Quyen and Project Coordinator Dinh Ba Vinh. These presentations were followed by a panel discussion facilitated by Mott MacDonald's Global Water Resources and Flooding Lead, Ms Fiona Barbour.
The three presentations emphasised that often the most vulnerable to the impact of climate change are those in poor and minority groups, and it is important to engage these groups in strategies to inform a robust decision-making process. Other key messages included the need for governments to focus on capacity enhancement to better mitigate climate-induced risks and the importance of engaging local communities in implementing solutions to develop more socially cohesive and resilient communities.
Key quotes from the presentations:
Increasing the capacity building and community awareness: "Many local governments are not aware of the social impacts of flooding on the community such as poor living condition and unhealthy environment, probably due to lack of resources. We work with these governments and local institutions to find out solutions and provide physical infrastructure. Furthermore, identify proper vulnerable groups and then define the most suitable approach to support these communities" (Dr. Jonghyo Nam)
Stakeholder mobilisation: "We all agree that the poor are the most impacted, they are less informed and less prepared. We should set up the mechanism to engage the government and community groups such as women and the vulnerable, encourage them to speak about the issue, and let them contribute. There are issues regarding collaboration and communication" (Mr. Francois Bernard Brikke)
Social cohesion creates a more resilient community: "One key thing to improve the social cohesion is that we need to access social capital and resources. Understanding what communities have had to provide financial solutions will make them a stronger community and then make them more resilient" (Ms. Do Quyen)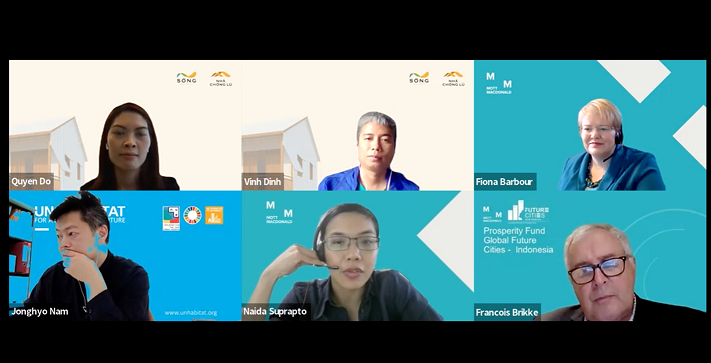 Participants at the Capacity Building Webinar
This session provided opportunities for open discussion between the presenters and attendees, and gave them the chance to share views and practical experience on issues and solutions implemented. It focused on a holistic, multi-hazard approach to building resilience in our cities to reduce vulnerability and exposure to climate-related risks, which is a continuous and iterative process that requires the continued engagement of all stakeholders. National and local governments play a crucial role in developing and implementing guidelines for transformative change. A collaborative effort is necessary to face climate challenges and ensure that all our communities, especially the most vulnerable, do not just survive climate shocks and stresses, but thrive. The feedback from participants was very positive reasoning the usefulness of the webinar for long term capacity building.