On December 15, 2021, over 120 people gathered, physically and remotely, at The Wheatbaker Hotel in Ikoyi, Lagos, for the Lagos Waterways Investment Summit. Leaders from the Lagos State Waterways Authority (LASWA) and the Future Cities Nigeria (FCN) team were joined by representatives of public and private sectors to discuss financial and legal issues surrounding the city's waterway transit systems. Boat operators, financial advisors, government officials, civil engineers, and various other professionals shared a stage to address the current state and potential future of water transit in Lagos. The event was supported by the UK Foreign, Commonwealth & Development Office (FCDO) in collaboration with the Department for Trade and Investment (DIT).
The event was divided into six panels. FCN's Team Lead, Kayode Khalidson, and LASWA's General Manager, Oluwadamilola Emmanuel, opened with a presentation of the challenges affecting travel by water in Lagos State and their possible solutions. Khalidson described the FCN team's assessment of four viable prioritised routes. He also highlighted the opportunity of investing in derived sub-sectors (boat building, for example), optimising jetty operations, improving ferry services, and building a freight terminal to ease port traffic. Emmanuel also stressed the need to improve ferry services, but also mentioned the importance of reducing waterway accidents, connecting informal communities, engaging boat operators, and collaborating across the Ministry of Transportation and Metropolitan Area Transport Authority (LAMATA).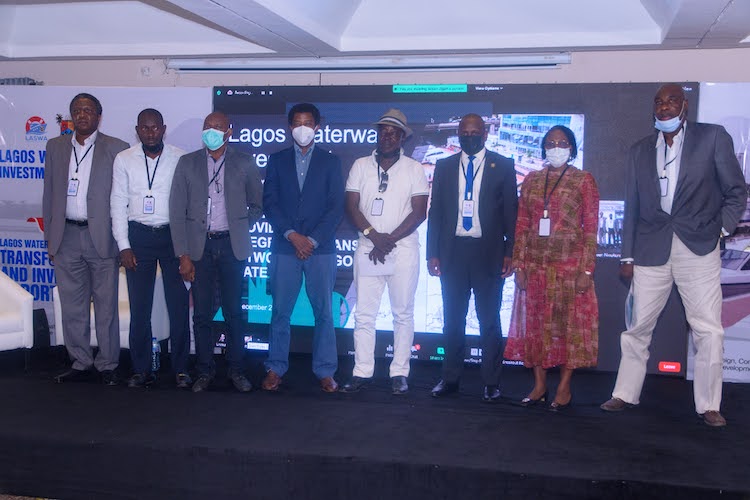 Attendees at the Lagos Waterways Investment Summit
Following this high-level overview, the next two panels zoomed in to focus on the boats that make waterway transport possible in the first place. Legal experts from LASWA and FCN presented the future implications of new boat licences given to operators on prioritised routes. This included a detailed discussion of the enabling laws that direct the affairs of key ministries and parastatals affecting water transportation policies and operations. Public procurement policies and land tenure rights (with respect to the proposed freight terminal) were also discussed. In the third panel, a mix of speakers from FCN and the private sector spoke about boat building capabilities. They emphasised the need to specify and raise standards, incentivize local economic growth, and incorporate environmental efficiencies.
The fourth session centred on finances. UN-Habitat's Shaakira Chohan explained the Cities Investment Facility (CIF) and how projects can qualify for financing. Viktor Nkiiri from FSD Africa introduced the Lagos State Green Bond, which covers projects based on water infrastructure, renewable energy, solar and geothermal buildings. This led to a wider discussion about the need to consider environmental sustainability in all future projects.
Panellists from the fifth session addressed one of the most important factors of public transportation – safety and security. Prince Yommy Segun Sopitan, Executive Assistant to the Governor on Maritime Affairs, reviewed the safety policies guiding the Lagos Waterways. A representative of Nigeria Inland Waterways (NIWA) highlighted how LASWA has been collaborating with NIWA to make inland waterways more secure. Dr Ganiyu Balogun, managing director of Tarzan Marine Enterprises, went through common dangers, such as wrecks, lack of police supervision, poor navigational aids, the scourge of water and seaweed, and submerged obstacles in the waterways. He argued for new boat safety standards, including equipment like lifeboats and fire extinguishers. Attendees asked questions and concerns, demonstrating the key role safety plays in attracting more passengers.
Abimbola Akinajo, LAMATA's Managing Director, began the final panel with a review of Lagos State, its many challenges, and the newly developed Lagos Strategic Transport Master Plan (LSTMP), which incorporates water transport into a wider multi-modal system. Technology, she argued, is critical to ensuring solutions are data-driven and always adapting. To that point, Taiwo Sanni of FCN presented a Cowry Card that will promote cashless transactions. Dami Adesida, FCN's Deputy Team Lead, closed the event by outlining the proposed procurement timeline, reminding attendees that following international best practises from start to finish is fundamental to delivering strong financial returns.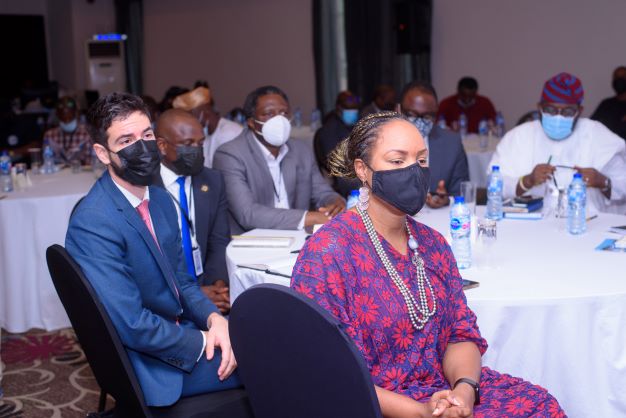 Attendees at the Lagos Waterways Investment Summit
Key Summit Takeaways
The summit helped showcase the Lagos State government's determination to improve water transportation capabilities through a multi-modal system as outlined in the LSTMP. The government is also promoting local capabilities whilst keeping an eye on global trends with the key aim to reduce emissions and their consequential impact on the environment. Other important factors that were considered include:
Criteria for accessing the ARM Harith Climate Finance Fund:

There must be a clear and unambiguous policy and regulatory framework
Projects must be able to demonstrate ESG credentials and attendant positive social impacts

Data availability and transparency are crucial in the public sector governance structure, therefore the use of technology remains a top priority to all to ensure policy decisions are data-driven
Marketing and Communications – the use of digital platforms such as social media is key to encouraging the use of water transport and increasing the passenger numbers
Continuous collaboration between stakeholders like LASWA, NIWA, LAMATA is critical for the Lagos multimodal integration and success of Lagos water transport
Lagos State Assembly is committed to putting the right legislature to improve investor capacity and safeguard their respective interest
A shift to maritime transportation will lead to reduced emissions in Lagos state, which is in line with COP26 objectives
There is potential in the value chain of the waterways for boat building in Nigeria
There are several innovative opportunities to finance licensed ferry operators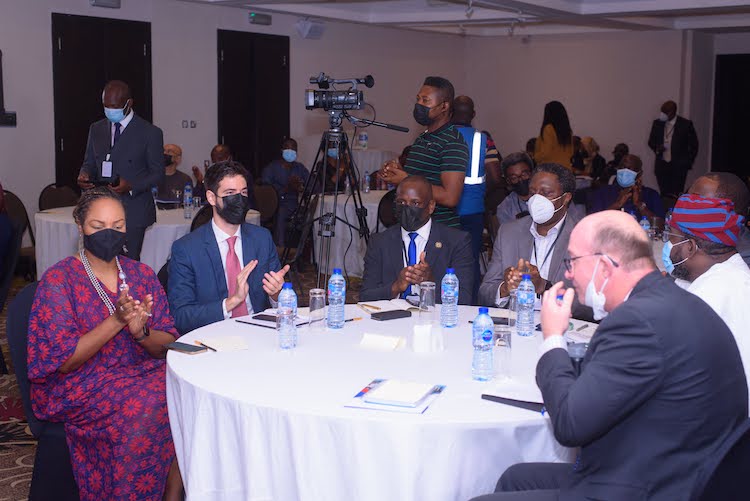 Attendees applaud summit panellists