In October and November the Global Future Cities Programme (GFCP) Bandung intervention conducted a series of knowledge sharing sessions to highlight other cities' success stories of public transport transformation with focus on improved accessibility.
The sessions were designed to guide Bandung City government in understanding how other cities addressed their challenges and developed on the opportunities, while pursuing transformative growth in public transport. The aim was to provide a clear vision for developing sustainable practices and exploring further measures for improving services in Bandung.
These series consisted of four sessions, and each featured the key speakers from relevant organisations. The first session was facilitated by Daud Joseph, commissioner of PT Steady Safe Indonesia and Welfizon Yuza, Finance Director of PT Transjakarta.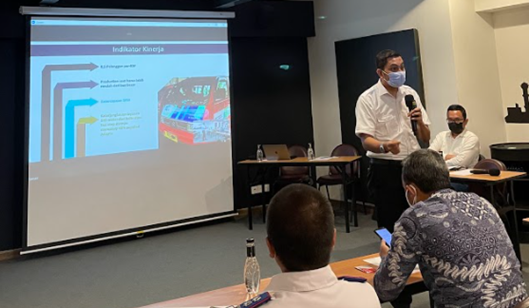 Session 1: Mr. Daud Joseph, Commissioner of Steady Safe Indonesia sharing insights on successful integration between TransJakarta and MikroTrans.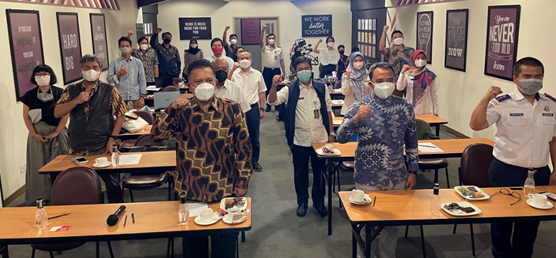 Group photo with key stakeholders post-knowledge sharing session 1
The second session was in cooperation with Semarang City's Transportation Agency and coordinated by Mulyadi, Head of the Public Transportation Division and Donal D.H, Finance Manager of TransSemarang.

Post knowledge sharing session 2, which highlighted the success story of Trans Semarang establishment, group photo
The DKI Jakarta's Transport Agency led the third session through their Head of Road Transportation Unit, Yayat Sudrajat.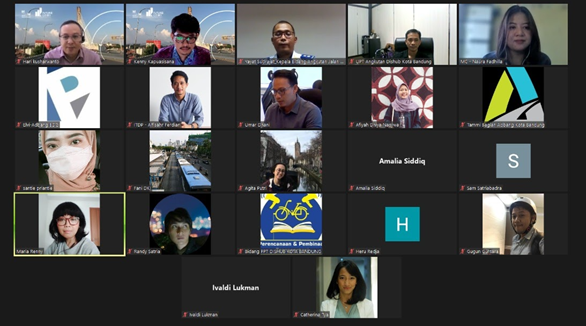 Screen capture of virtual knowledge sharing session 3 on success stories of DKI Jakarta's transport agency
Finally, Chandra Sugarda, Gender Equality and Social Inclusion Lead for the GFCP Indonesia team, along with GAUN (National Public Accessibility Organisation) Director, David Tjahjana, facilitated the last session.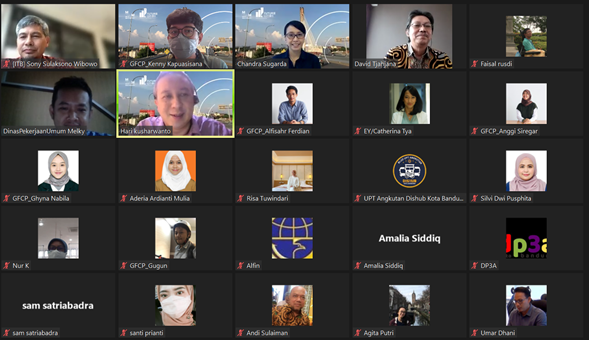 Screen capture of virtual knowledge sharing session 4 on 'accessibility for urban transport for all groups', moderated by the Gender Equality and Social Inclusion lead for the GFCP Bandung team, Chandra Sugarda
Attending the sessions were key stakeholders from the Bandung City government, including representatives from the Transport Agency, Planning Agency, Public Transport Service Unit, Public Works Agency, and City's Secretariat Office.
The key takeaways are the importance of institutional coordination in providing accessibility for all groups, collaboration with vulnerable groups in infrastructure development plans, accessibility over aesthetic design, and the correlation between intermodal transfers location with accessibility. These recommendations, aligned with the Bandung programme intervention, aimed at strengthening the importance of accessible infrastructure.
The following are the summaries of the sessions:
1st Sharing session

Integration of urban public transport (Transjakarta and Mikrotrans)

2nd Sharing session

Strategy and process of urban public transport integration - Semarang

Objectives should be Specific, Measurable, Attainable, Relevant, Time-based (SMART)

Delivering integration process needs clear directions and boundaries

The process requires a competent implementing team and then stakeholder mapping

Collaboration among operators is more effective than competition for service delivery

Minimum service standard should be clear, detailed, and measurable

Commitment and consistency in providing quality services are key

'Community services'-oriented development plans

Each development plan requires sound justification and rationale; presented in a structured document

Political will is key in the commitment for delivering public transportation services

Communication and collaboration with local community and existing operator should be established prior to implementing development plans

Accessibility for all groups must be stated in the minimum service standards

3rd Sharing session

Strategy and process of urban public transport integration – DKI Jakarta

4th Sharing session

Accessibility of urban public transport for all, including the marginalised groups

Modal shift can be achieved through reliable public transport services

It is necessary to have development plans focusing on transit-oriented development and providing pedestrian access

Push and pull policy interventions are needed to support the implementation of sustainable transport

Digitalisation

-oriented development during pandemic

People-oriented development plans

Socialisation, consultation, participation, and collaboration with community

Coordination and collaboration among government agency towards providing accessibility for all people, including vulnerable groups

Involving representatives of vulnerable groups, in every steps of infrastructure development plans

The location of intermodal transfers needs to be considered for its accessibility

Focus on people-oriented integrated public transport development

Accessible integrated public transport means facilitating independent mobilisation of all people from one end to another