The Global Future Cities Programme Bandung Integrated Transport team organised a workshop on August 3rd, 2021 regarding the low-carbon transportation strategy, which was attended by representatives from the Transport Agency, the City Planning Agency, Academics from Institute Technology of Bandung, and Parahyangan Catholic University.
The event was facilitated by Annette Smith, Technical Director of Future Mobility at Mott MacDonald London. The workshop was run using techniques from the 'Future Uncertainty Toolkit for Understanding and Responding to an Evolving Society' (FUTURES), a collaboration between Mott Macdonald and the University of the West of England. It is a new approach to transport planning that enables stakeholders to decide on their direction of travel and provide measures to set the course. It is designed to support decision making in the face of uncertainty – particularly at the strategic planning stage.
This workshop is part of the City of Bandung's Low Carbon Transportation Strategy Programme, which aims to connect the city with the Paris Agreement and strive toward a desired future of a net zero transportation system by 2050. This initiative will focus on developing a 2030 plan that will identify the key activities for delivering a low carbon transportation system in Bandung before aiming for a net zero transportation system in the long term.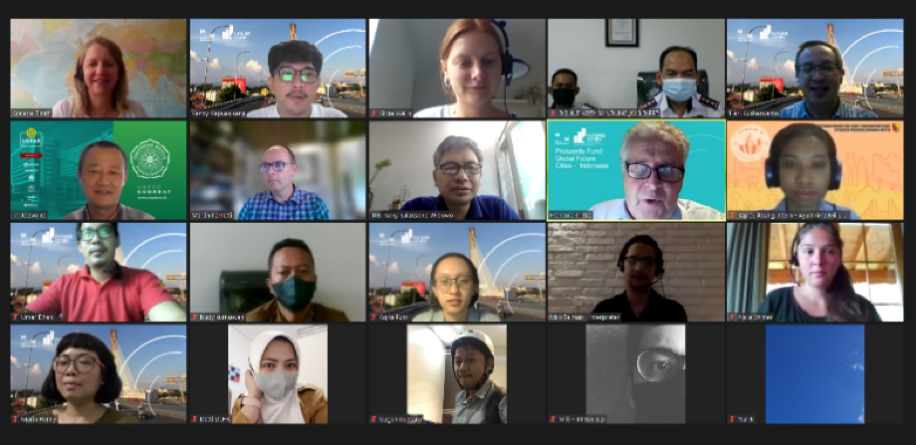 Screen capture of first Low Carbon Transportation Strategy Workshop organised by the GFCP Bandung team and participated by representatives from the Transport Agency, Bandung Environmental Agency, City Planning Agency, Academics from Institute Technology
The objectives of this workshop are to help the team and participants have a better knowledge of how to conduct a low-carbon assessment at the city level, define the local transportation context, as well as to assess the city's strengths, weaknesses, opportunities, and threats (SWOT) in terms of implementing a low-carbon transportation plan. This effort will ensure that the strategy is founded on strengths while also identifying where planning and actions should be prioritised to ensure positive future outcomes and the implementation of a preferred net zero future.
The workshop revealed that the attendees already had a basic understanding of the emerging low-carbon transportation strategy. They were enthusiastic about the conversation and communicated several key ideas relating to the SWOT category - Strengths, Weaknesses, Opportunities, and Threats, as summarised in the table below.
Strengths

Weaknesses

Good digital connectivity

Traffic Control System

Emission testing

Tourism/Culture/Education

Existing campaigns (including climate change programme)

Existing sustainable transport infrastructure

Integration between modes

Limited public transport services

Lack of policy alignment

Quality and accessibility of transport network

Topography

Congestion

Opportunities

Threats

Cycling behavior

Improvement of Public Transport

Pedestrian Improvements

Travel Demand Management

Incentives and disincentives (changes in policy)

Advanced technology and new modes

Financial capacity and budgets

Strategy not integrated

Climate resilience

Recovery from COVID-19

Changing Behavior

Decarbonizing power sector
A second workshop will be held in the coming months as a follow-up to the results of the first workshop's assessment and the FUTURES method (THREE Horizons) will be further explored and discussed. It enables structured engagement to explore a transition from the present to a preferred future state. It helps elicit insights concerning the obstacles, risks, and opportunities at play during the transition.