On 18 November 2021 the Global Future Cities Programme's Bandung and Surabaya team hosted an international capacity building webinar in collaboration with the UK Built Environment Advisory Group (UKBEAG), UN Habitat, UK Foreign, Commonwealth & Development Office (UK FCDO), and UK Department for International Trade (UK DIT). The session focussed on participatory urban planning.
During the webinar, local government officials presented an overview of the three GFCP Indonesia interventions: Bandung Integrated Transport, Surabaya Urban Transformation and Surabaya Earthquake Resilience. Representatives from the Bristol One City Plan and subject matter experts on participatory planning, city resilience, and disaster risk financing also participated in the webinar. They shared their experiences on how to strengthen and improve the integrated and inclusive planning process, sparking a lively discussion between the panellists and the members of the public, who joined the session.

Examples of the questions posed to the audience during the capacity building webinar on Mentimeter
The webinar increased the awareness of the Programme and showcased the local government's contribution and involvement in the interventions. The knowledge shared by representatives from the city of Bristol and subject matter experts has encouraged the local governments of Bandung and Surabaya to strongly consider the implementation of ongoing Global Future City Programme projects, along with the government programme. In the same session, Ibu Liny Tambajong, head of Regional Planning, a research and development agency of North Sulawesi, Indonesia, expressed interest in adopting the best practices from the Global Future Cities Programme. This has demonstrated that knowledge exchanges are effective in promoting the replication of the Programme across Indonesia.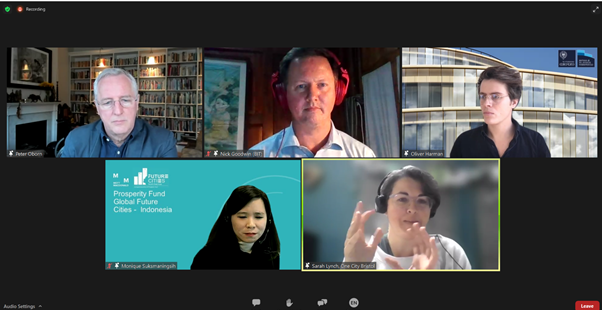 Indonesia capacity building webinar: Panellists sharing their thoughts on feedback from the audience