Lagos is a city we all know about even if we have never visited. It can be described as an urban phenomenon. It is also my home, and I am one of over 21 million inhabitants. Lagos is the economic hub of Nigeria and a central point for imported goods (80% of freight coming into Nigeria comes through Lagos).
Lagos' large population comes with its own issues and challenges such as shortage of decent accommodation, inadequate infrastructure, and municipal services, among others. We, the population put pressure on the natural environment and the infrastructure. Though we are yet to figure out how to reduce our footprint, with the ever-growing population, there are strides that are being made to soften it.
Transportation within Lagos metropolis is road based. Travelling within Lagos is reported taking double and sometime triple the normal time, due to road traffic congestion and I can attest to this. This is not only an economic loss in terms of productive person-hour spent in traffic hold up, it also makes the cost of doing business in Lagos highly prohibitive.
Until very recently, buses accounted for almost 70% of the share of motorized person trips (3% BRT (Bus Rapid Transit), 67% unregulated buses), the taxis and private cars accounted for about 20%, rail and water 1% and the remaining 9% accounted for by motorcycles, locally known as Okada. Approximately 20 million trips are made daily in Lagos on public transport and despite poor service conditions and low availability, the cost of public transport is huge, costing on average, over 30% of household's disposable income.
Currently the waterways are under-utilized, probably due to cultural (fear/inability to swim) and economic (unaffordable fares) impediments. With the current transportation share at less than 1% on water transport there is a lot to be done to achieve the Lagos State Government goal of a 20% share by 2025. However, water transportation can play a significant role in reducing road traffic congestion and air pollution if it is made more attractive, affordable and safer for people.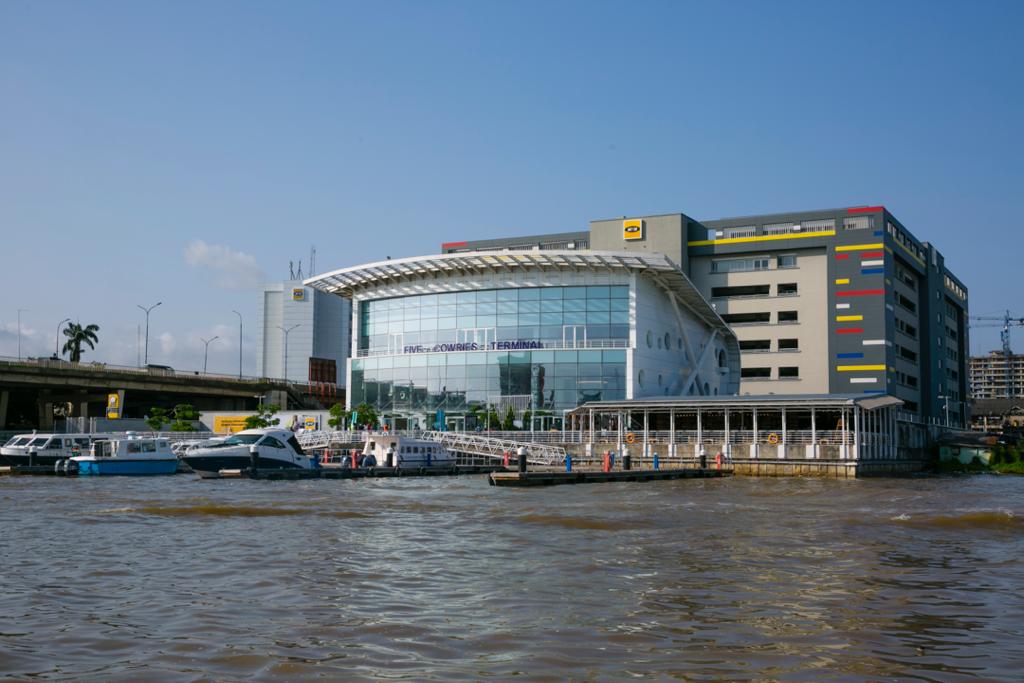 There is a real drive from Lagos State Government to improve the water transport sector but there seems to be some systemic issues that are blocking significant progress. To help understand the issues surrounding water transportation in Lagos, I spoke to Famuyiwa Ibrahim, the Head of Operations at Lagos State Waterways Authority. He identified that there were conflicts in operations, dredging and navigational safety, vessel standardisation and specification and area of jurisdiction. In addition, he mentioned the challenges that come with multiple taxation for operators. The identified issues all stem from a lack of integration between various levels of government and external stakeholders who manage and use the waterways.
Famuyiwa Ibrahim, mentioned to me that through the Lagos water transport intervention as part of the Global Future Cities Programme, the cooperation between various levels of government has improved. Stakeholders were involved throughout the project and an MOU (Memorandum of Understanding) to be signed by Lagos State Waterways Authority and National Inland Waterways Authority was drawn up. These were all positive steps to dissipate the conflicts earlier mention by Famuyiwa Ibrahim.
Reflecting on the project Famuyiwa Ibrahim said, 'LASWA is better positioned than it was a year ago, the LASG is currently working on solving issues on overlapping functions and the local communities currently expect more engagements and possible investments to improves accessibility and improved mobility.'
The project still has a way to go to fulfil its objectives, however its success regarding stakeholder buy-in and cooperation has passed all expectation. This eases the next steps of the project, leading to the implementation of viable waterways transport system.