Future Cities Nigeria (FCN) is supporting Lagos State Waterways Authority as it holds a series of community engagement forums with various key stakeholders. This consultative process is part of the implementation roadmap of the recommendations submitted by the Future Cities Nigeria, which has been working in collaboration with LASWA to develop a master plan to ease road traffic in Lagos by expanding water transportation routes and instituting new licensing and regulatory frameworks for ferry operators in order to provide access to safe, affordable, accessible, inclusive and sustainable transport systems for all commuters in the city (in accordance with the UN SDG 11.2).
Stakeholder engagement has been an integral part of the FCN Programme since inception, as an effective means of building strong and sustainable relationships with stakeholders. Since August 2019, there has been a focus on stakeholder engagements at different phases of the intervention, which then led to the adoption of new and innovative ways of communicating following the onset of the Covid 19 pandemic in 2020. Consultations have now focused towards virtual forums via video conferencing, and the use of whatsapp chat groups as a forum for interactive discussions to help FCN and LASWA gather insights from community groups. Initial consultations involved gaining an understanding of the needs and travel patterns of commuters and having preliminary discussions with stakeholders about the objectives of the FCN intervention.
With the easing of Covid restrictions, physical forums are once again taking place whilst continuing to observe official protocols. The focus of the recent forums has been to provide an update on the intervention, address the identified issues from past engagements, as well as starting the process of educating stakeholders about safety on the waterways and the safety measures and regulations being instituted by LASWA for ferry operators and for passengers.
Community Forum
April 24th, 2021
Participants: FCN, LASWA with Ojo, Irewe, Ibasa Ijegun-Egba and Ilashe community members.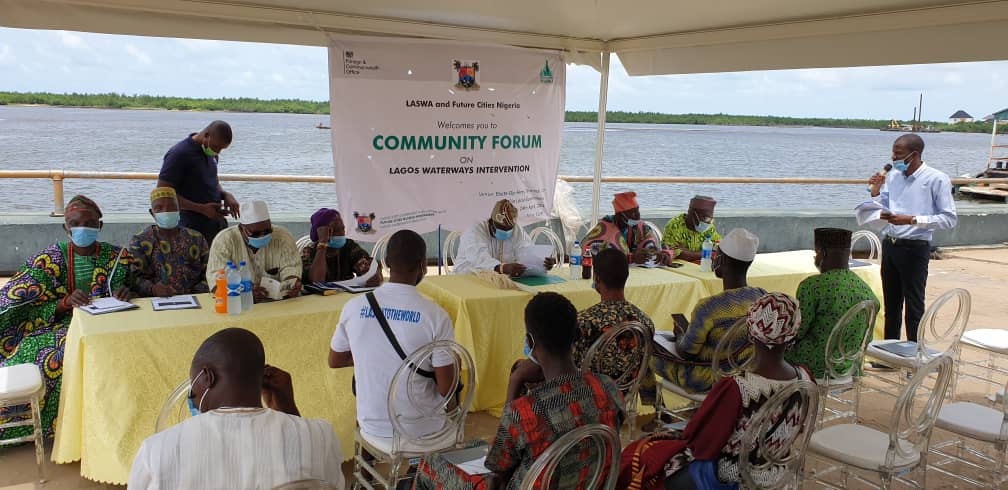 Tosin Eso, Social Development Consultant FCN, addressing community members.
The purpose of the event was to follow up on the past issues and concerns raised by the community groups, as well as providing a status on the intervention and detailing the work of LASWA regarding the regulation of ferry operations to attract more commuters to choose water transportation as part of their Lagos commute. A focus of the event was also to raise awareness on safety risk and to sensitize residents, all of whom live in riverine communities close to the water, about the risky behaviours observed and the need for behavioural change to ensure safety for all.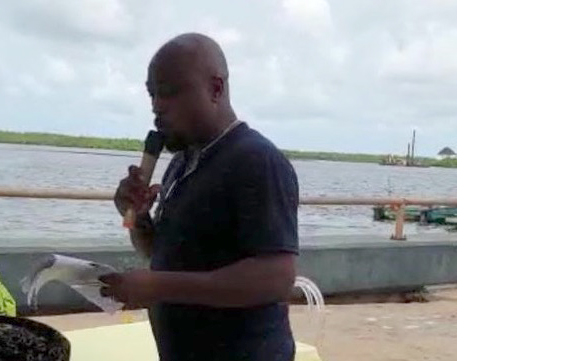 Dami Adesida, Deputy Team Lead FCN addressing community members
Issues addressed include past concerns of community members about boats speeding, inadequate supply of safety jackets, pollution, overcrowding, inadequate and poorly maintained boats, and accessibility – in particularly for the elderly and physically challenged. Remedial measures instituted by LASWA such as certification and regulatory enforcement of new rules for ferry operators were detailed by the LASWA Safety Office, who, with support of the FCN team, was able to assure community members. The team also gave a presentation in both the local language of Yoruba and in English, to educate the community members about how they can partner with authorities to improve safety on the waterways. Safety brochures were distributed and detailed discussions took place about the need to wear life jackets, follow instructions given by the boat captain when on board, and abstaining from dumping refuse or engaging in behaviours that contribute to waterway pollution.
Capacity Building Workshop on Safety and Gender and Social Inclusion issues
May 5th & 6th, 2021
Participants: FCN, LASWA, and members of ABOWATAN
Capacity building has been an integral part of the FCN programme with a focus on skills transfer to counterparts in Lagos and Ogun State Government agencies. A series of capacity building workshops were held in 2020 by the FCN Lagos Transport team with members of the various departments within LASWA. The sessions covered topics relating to communications, legal, finance, ferry operations, gender and social inclusion, transport planning and integration and human resource management. With the completion of these sessions, FCN has been able to equip LASWA staff with the tools to transfer the knowledge and insights in a series of workshops with other stakeholders. The first of such sessions was a two-day workshop held with members of the Association of Tourist Boat Operators and Water Transporters of Nigeria (ATBOWATAN).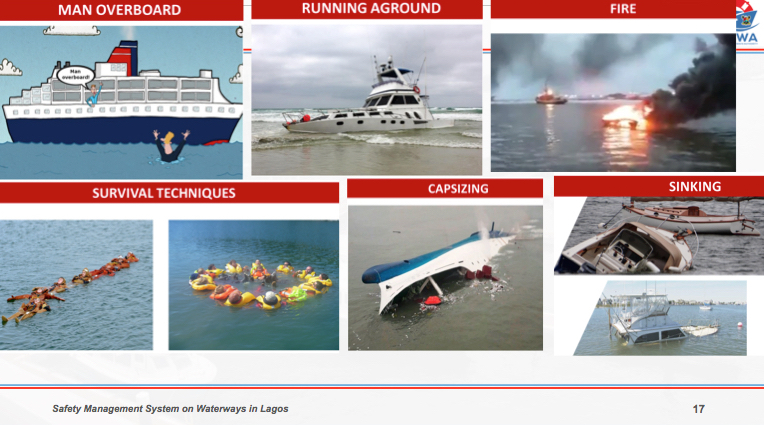 Screen shot from the LASWA workshop presentation
With support from FCN, a two-day session, split in to two sessions; one on safety and the other on gender and social inclusion (GESI) issues, were held and combined presentations by LASWA staff with interactive discussions with the ferry operators.
The session on Safety included detailed conversations about: Vehicle maintenance (preventative and predictive maintenance) and the logging of maintenance records; Fire safety; Emergency response procedures; Traffic rules on the waterways; Best practice on fuel procedures; Regulations relating to the provision and maintenance of on board life saving equipment
The session on GESI included: Official LASWA gender and social inclusion framework; Equality in employment of Ferry operations staff at all levels; Affirmative action and active efforts to recruit more females into the sector ; Accessibility for all passengers including provisions for the elderly and physically challenged.
Additional sessions are planned for the coming months as FCN continues to provide support to ensure the successful implementation of its recommendations.