Mainstreaming Gender Equality and Social Inclusion into Bangkok Transit-Oriented Development Plan (TODP)
When commuting to different destinations, it's crucial that Bangkok's residents have access to safe and affordable transport options. As part of the UK Prosperity Fund's Global Future Cities Programme (GFCP), the Transit-Oriented Development Plan (TODP) team engaged with representatives from the city's most vulnerable groups to address gender inequality and social exclusion issues faced in the city that may impede their opportunity for economic empowerment.
To achieve an equitable Transit-Oriented Development Plan (TODP) for the city of Bangkok, it is essential to consider the diversity of its people. As the cultural melting pot of Thailand, many people are drawn to Bangkok to work, visit, and live.
Engaging Transgender Women in Transit-Oriented Development Plan
Bangkok is a vibrant and popular destination for members of the LGBTQI community. Among individuals who identified themselves as LGBTQI, we know that transgender women can face discrimination and inequality in the public sphere. During the TODP process, the team engaged with six transgender women of Bangkok in a focus group discussion to provide a safe space for them to voice their experiences using public transportation, stigmatisation and obstacles to achieve better opportunity in the city as well as their recommendations for more inclusive public transportation.
Profile of Transgender Women in Bangkok and Thailand
Bangkok is popular for gender-affirming surgery (as it is known in the transgender community), a small but growing niche in Thailand's medical tourism industry, attracting more than 2 million visitors a year. Such patients generated approximately 140 billion baht (USD 4 billion) in revenue in 2012, increasing by 18% in 2013.1
The World Bank Group and Thai LGBTQI civil society network's researchers worked together to collect the opinions of 3,502 LGBTQI and non-LGBTQI Thais in Bangkok and both rural and urban areas in the North, Northeast, South, and Central provinces. The life experiences of 2,302 LGBTQI people were compared with those of 1,200 non-LGBTQI people in Thailand.2
Results revealed that the LGBTQI community suffers from unequal opportunities and unabashed discrimination. LGBTQI people face exclusion in many areas of life, including education and health care, obtaining credit and finance (including life and health insurance), access to housing, job market access and even at work.
45% of all surveyed LGBTQI people report not being successful in job applications because of their LGBTQI identity, and 53% report experiencing emotional problems such as depression, anxiety, or frustration as a direct result of such discrimination. Almost half of all LGBTQI people in the survey report not being able to show their real abilities in the workplace. Transgender women and men suffer most, by far, while lesbian and bisexual women experience more discrimination and exclusion than gay and bisexual men.3 While Thailand has a reputation as an international hub for gender-affirming surgery and transgender healthcare, this global reputation obscures Thailand's severely limited legal mechanisms to protect transgender people at home.

Public Transportation vs. Public Safety
In consultations with transgender women living and working in Bangkok, they expressed similar concerns regarding commuting time and cost in Bangkok. Unlike others, their challenges are intertwined with compromised gender expressions and the level of stigmatisation they are likely to receive during their commutes. From group consultation, safety is the primary concern of transgender women. With their gender identity being the most visible of other LGBTQI individuals, verbal and sexual harassment is an everyday frustration. They reported that they experience being asked questions such as: "Do you still have your penis?", "Can I feel your breasts?". This unwanted attention they receive significantly impacts their choice of transportation. With an absence of affordability of current public transportation combined with the stigmatisation and harassment they face, the transgender women consulted work hard to ensure they can buy a car, as they feel more comfortable traveling with privacy and without judgement from their fellow commuters.
Affordability vs. Gender Identity and Expressions
Moymoy (Watchrapong Wongmoy), an engineering graduate, decided to become a transgender health provider due to discrimination faced during recruitment. She shared about her commuting experience in Bangkok. As a 6-feet-tall, 30-year-old transgender woman who has lived in Bangkok for over ten years, she shared that she needs to adapt her outfit according to the modes of transportation she will use. When using public transportation such as BTS or MRT, she says that she dresses in a way that is "modest" and tries not to be the centre of attention, which is frustrating for her as it is the opposite of her self-identified "over the top" personal style. The main reason for her decision is to avoid stigmatisation and verbal harassment. According to the transgender women consulted, Bangkok is the best place for them to find jobs in Thailand, because more employers are willing to hire them. However, time, energy and public transport system improvements are needed for them to prosper in the city with dignity and the freedom to express their gender identity and expressions.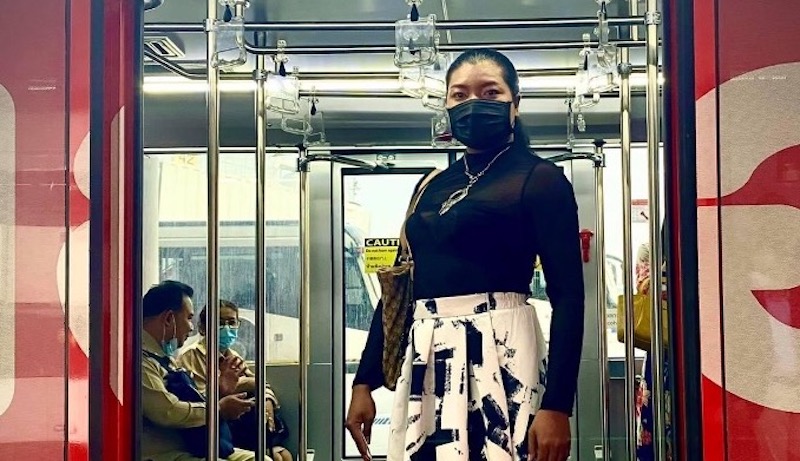 Moymoy using public transportation in Bangkok
Social Outcome: Gender Equality and Social Inclusion Strategy
Through the Transit Oriented Development Plan for Klong Bang Luang and Bang Wa, there will be increased access to safe, affordable, and sustainable transport systems for women and socially excluded groups in Bangkok. To achieve a GESI outcome through a more equitable society where everyone can have equal opportunities to thrive in Bangkok, improving access to a safe and affordable transport system for socially excluded groups in the city is essential. The GESI strategy acknowledges that time used for travel, lack of mobility and safety are the key factors hindering inclusive and sustainable urban development.
Time is money: Time use in urban public transportation is a crucial issue for people in the city, as socially excluded groups often use more time to travel than privileged groups due to a lack of budget and transport options. Reducing the amount of time spent travelling to and from work will significantly improve the quality of life for people from all social, economic, and ethnic groups.
Mobility lubricates the economy: The lost cost of not having full participation in the city economy not only impacts individuals, but it also creates income gaps and widens socioeconomic inequality in the city. Connecting public transport systems in Bangkok also means providing inclusive economic development for city-dwellers.
Safety opens doors for more opportunity: Dangerous spots and sketchy areas in the city discourage people from moving around for work. Creating a public transport system with spaces that acknowledge the needs of socially excluded groups will reduce real and perceived threats to safety and encourage greater participation from the public.
Opportunity to be allocated more equally: Once the city commute is affordable and safe, it opens the door to people previously left behind. Through equitable urban design and planning and transportation system, opportunities will be equally distributed, narrowing socioeconomic gaps and helping create a more inclusive city.
Recommendations
Engaging and Responding to Needs of the LGBTQI community
At a policy level, the LGBTQI community expressed eagerness to engage with Bangkok local authorities to ensure the voices of the marginalised reach local policymakers. In turn, city planners will gain access to their insight to respond to their needs through urban design and functionality. By engaging the LGBTQI community, the city planners will gain awareness of each GESI groups' needs and experiences. Therefore, this engagement will help narrow the gap between policy formulation and policy implementation.
Capacity Building and Gender Sensitisation for Public Transport Officers
The results from consultations with transgender women highlight public transport officers' lack of awareness on gender sensitivity and how to appropriately support transgender women without offending them. By collaborating with GESI specialists and NGOs representing the LGBTQI community, Bangkok could join a growing number of cities that embrace gender diversity and social inclusion in their transport policy and urban development. Bangkok is a city where people with diverse gender identities and expressions can find better jobs and opportunities than anywhere else in Thailand. However, consultation with transgender women reveals they still experience stigmatisation, discrimination, and various forms of sexual harassment due to how they choose to express their gender identities. To address transgender women's concerns, sensitisation training for both policymakers and public transport staff should be provided to enable a safe environment for them to thrive in the city.
Transgender Women-Inclusive Public Transportation
Thai transgender women suggest they should be referred to as 'women' in public transport. Thus, services provided for women such as 'lady buses', 'lady boats/ferries', female-only parking spots and train cabins should include transgender women to provide them with a safe and friendly environment during their travel in Bangkok.
Sources
1 https://www.bloomberg.com/news/features/2015-10-26/how-thailand-became-a-global-gender-change-destination
2 https://blogs.worldbank.org/eastasiapacific/LGBTQIi-in-thailand-new-data-paves-way-for-more-inclusion
3 https://blogs.worldbank.org/eastasiapacific/LGBTQIi-in-thailand-new-data-paves-way-for-more-inclusion