"The Bicycle Strategy, Master Plan and Pilot Implementation Project for Integrated, Non-Motorized and Multimodal Transportation in Ankara", work in cooperation with Ankara Metropolitan Municipality (AMM), aims to expand bicycle as a sustainable and innovative mode of transportation in the city and to create a bicycle network accordingly. The intervention has a human-centred inclusive approach with the vision of "ensuring that bicycle is approved as a mode of urban transportation by everyone and integrate it to the public transportation system".
The Ankara Bicycle Masterplan is prepared in line with a participatory process developed by taking the opinions of stakeholders and ensuring their participation. In this scope, meetings and focus group meetings were held with representatives from Ankara district municipalities, academicians, non-governmental organizations, cycling groups and AMM's internal stakeholders. Besides, a survey was conducted including all stakeholders followed by three stakeholder engagement meetings for the evaluation of the survey results. The opinions, evaluations and feedback of all stakeholders involved in the participatory process were consulted through questionnaires and meetings.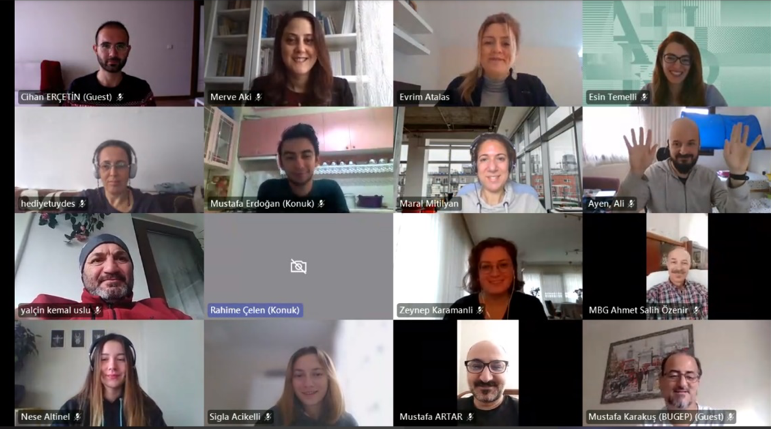 Firstly, Non-Governmental Organizations' (NGOs) and cycling groups' contributions were demanded, as they represent active users as well as potential users of new bicycle paths.
Secondly, academicians and transportation planning experts were involved to discuss technical and social aspects of bicycle route planning. Finally, professional chambers were invited to have a critical discussion on the masterplan and their suggestions were received. Ankara Chamber of Industry was also consulted for its opinion about the branches of the bicycle paths serving to Ankara Organized Industrial Zone (OIZ), Ankara Food and Necessaries Wholesale Association (GIMAT), Middle East Industry and Trade Centre (OSTİM) and Ivedik.
The importance of building bicycle path in the city centre of Ankara was emphasized at the stakeholder participation meeting in terms of its contribution to city-wide visibility, and it was discussed that the public transportation stations and stops should serve as pivotal in the design of the bicycle path network. In the meetings, where security should be the most important factor in network planning, the importance of reducing traffic speeds and removing cars from the city centre was debated to support bicycle mode. The importance of having a participatory planning approach in the Masterplan and awareness raising campaigns starting from primary schools was also emphasized. The coordination of ongoing bicycle projects was mentioned as an important issue, and the absence of bicycle parks, excessive traffic speed on the motorways and the lack of safe bicycle paths were indicated as actual problems in Ankara. Also, some solution suggestions were detailed in the meeting including sustainable materials, solar lighting, loophole/gutter layout, bicycle apparatus and so on.
The Bicycle Strategy, Master Plan and Pilot Implementation Project for Integrated, Non-Motorized and Multimodal Transportation in Ankara aims to start a bicycle network by creating a sustainable and innovative transportation model in Ankara. The Ankara Bicycle Masterplan was prepared in line with the bicycle vision framework of Ankara, and its objectives are to encourage the use of bicycles in daily transportation, to introduce bicycle as a mode of transportation for everyone, to integrate it into Ankara's multi-modal transportation system and to reduce the trips made by motor vehicles.