The Bandung integrated transport team, as part of the Global Future Cities Programme, conducted a face-to-face workshop on stakeholder mapping and identification on 23 September 2021. As the number of Covid-19 pandemic cases in Indonesia has decreased, the team took this opportunity to conduct the workshop in person with the aim of achieving greater engagement with stakeholders and generating ideas that might not be raised in an online meeting. This workshop was attended by key stakeholders in the programme, including representatives from the City Planning Agency, the Transport Agency, and the Transport Unit of the Bandung Government.
The goal of this session was to validate the preliminary results of the intervention team's stakeholder mapping and identification. The team had given the participants a list of the identified stakeholders and requested them to gauge the level of influence and support received from each, with assistance from the team. The stakeholders ranged from national to local level and were all involved in the implementation of the public transportation system in Bandung.
The feedback altered the result of the analysis, both at the local and national levels. For example, at the national level, the Ministry of Transportation has been reclassified from the 'keep informed' category to the 'technical' category. Bandung City Government was moved from 'strategic communication' to the 'technical' category at the local/city level. Bandung Spatial Planning Agency, which was previously classified as 'stay informed', has been reclassified as 'technical'. In addition, the 'Keep informed' category now includes the Department of Environmental and Hygiene and Public Order Enforcers (Satpol PP).
This verified matrix will add considerably to the team's output, as the adjustments to various stakeholders' participation will help ensure the approach method and transportation strategy are effectively delivered.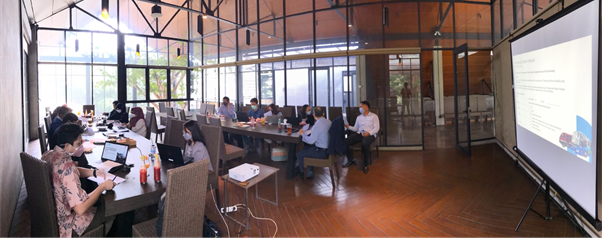 The Bandung team and key stakeholders during the face-to-face stakeholders mapping workshop