UK Prosperity Fund Global Future Cities Programme - South East Asia - Indonesia
Success Story - Online Workshop Series #1
Surabaya Seismic Hazards: Key findings, challenges and way forward
In commemoration of International Day for Disaster Risk Reduction [13th October 2020]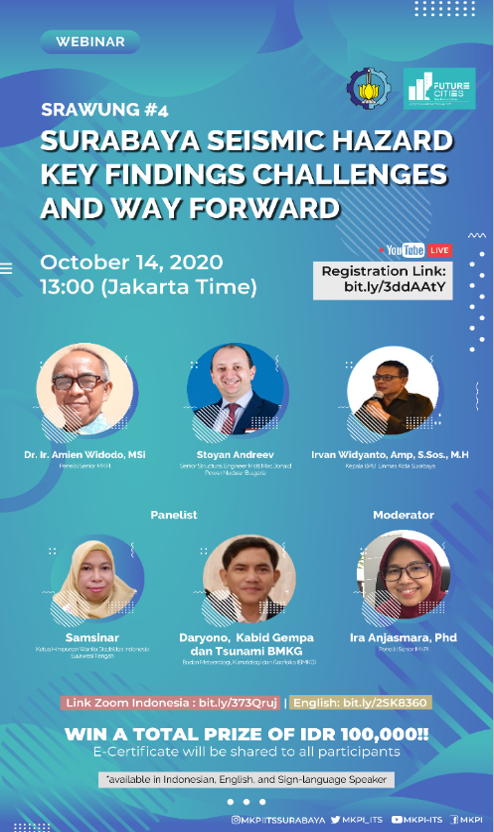 Virtual workshop raises awareness on Surabaya's seismic activity
Understanding the risk of earthquakes to Indonesia's second largest city is not enough. Those risks must be successfully communicated with all relevant stakeholders and the wider population for further actions
Recent research has revealed the extent of active earthquake faults beneath Surabaya's fast-growing population. Anticipating the potential threats will therefore prove critical in reducing the negative impacts. However, until last week, this issue had not yet received serious attention from those key stakeholders in the city who are best positioned to mitigate the real risks of seismic activity.
A virtual workshop – the first of an ongoing series – was held on the 14th October to raise awareness on the earthquake status in Indonesia's second largest city. 107 attendees, including key decision makers, international stakeholders and the media, were briefed on the current threat, with the aim of increasing their understanding and ownership of a safer, resilient and sustainable Surabaya city.
The online meeting was hosted by the local team of the UK Prosperity Fund's Global Future Cities Programme in South East Asia, in close collaboration with Surabaya City Government, as the main beneficiary of the program. Since 2018, this partnership has undertaken important groundwork to ensure that Surabaya City will have a sufficient earthquake anticipation and response strategy in place.
Attendees included leading stakeholders such as the Development Planning Agency (Bappeko Surabaya), Disaster Management and Social Protection Agency of Surabaya (BPB-Linmas), and the Meteorological, Climatology and Geophysics Agency (BMKG). The process and results of the workshop were also covered by Jawa Post, one of Surabaya's most popular newspapers, which is read by 751,000 readers throughout Indonesia. Their news article highlighted the key findings, challenges and recommendations for the Surabaya City government.
The workshop focused on the Surabaya Seismic Hazards study, which was developed through the collaboration of international (Mott MacDonald Bulgaria) and national experts (ITS, BMKG, PUSGEN and BNPB), with strong support from Surabaya City Government (Bappeko and BPB Linmas). Making the session as inclusive as possible was a priority for the organisers, as seismic activity is known to carry a disproportionate risk for vulnerable groups in society. A spokesperson for Indonesia Women With Disability Organisation held a discussion with the national representative from BMKG. Attendees could also access a live-feed sign language interpreter and Indonesian-English interpreter.
Congratulations to everybody involved for holding this very interesting and well-organised webinar, which paves the way for further dialogues and similar capacity building events. The wide range of speakers representing the national and international experts, local and national governments, as well as research centres and specialised agencies, shows that there is a dialogue going on and that our project is visible, relevant and appreciated.
- Francois Bernard Brikke, Country Lead, Indonesia
UK Prosperity Fund's Global Future Cities SEA