To celebrate the achievement of women in urban sustainability, the Global Future Cities Programme's Local Strategic Advisor in Myanmar, Khin Phyu Phyu Thandar, interviewed Daw Moe Moe Lwin, a Director and Board Member of the Yangon Heritage Trust. They discussed motivations for working in urban sustainability, priorities for achieving sustainability and the role of women in improving cities. Daw Moe Moe Lwin spoke about her background, motivations and female role models that inspire her to contribute to Yangon's heritage preservation and sustainable growth.
The interview is the latest installment of a wider series titled "Voices from Cities: Urban Champions". Watch the full interview here or read it below.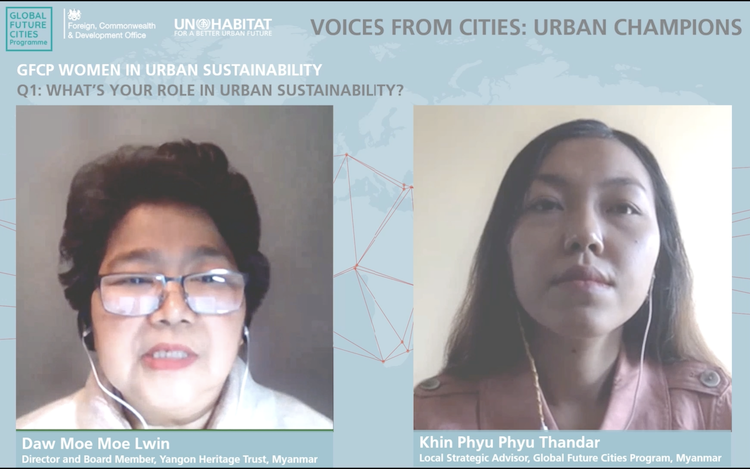 ---
Khin Phyu Phyu Thandar (PP): Good morning. The purpose of this interview is to celebrate Women's History Month and highlight women leadership and efforts to make cities more sustainable. Could you please introduce yourself: What is your current role and organisation, and how does it relate to urban development in making cities more sustainable?
Daw Moe Moe Lwin (MM): I am representing Yangon Heritage Trust (YHT). I've been working since it was founded as the Director and a Member of the Board. The role of YHT is to promote and protect urban heritage in Yangon. Why are we promoting it? We try to integrate it with the city planning so that it will be one of the developed cities in Southeast Asia; such is our vision. We work to record, protect, provide technical assistance and inform the government and other partners for the future of public policy regarding heritage and planning. It is very closely related. Heritage conservation cannot act alone without considering planning, because everything is closely interrelated – especially urban heritage, as its essence is making the city more meaningful, livable, connected with memories, people's pride in how they are enjoying their places and their city, and then their inputs to make a city better – that is all related.
PP: Why do you work in urban sustainable development?
MM: My background is architecture, and I got my master degree in urban planning. I always liked that subject, even while a bachelor degree student in architecture. My professor used to say that the way I think is not like the architect, it is more like an urban planner. Maybe I was thinking too much. (laughs) It always excited me: talking, reading about the planning and the urban design of streets.
I saw that cities are very important. Cities are the collective lives of people. The city has to provide and facilitate people living together. In a bigger city millions of people are living together, so making the city well-functioning is quite challenging. And if the city is successful then it will contribute to the growth of the whole country. So that's why they say that cities are engines of growth – they're very important.

And then I believe that the cities are part of the natural process. You cannot prepare how people should live or think.I think there are a lot of contributions from each individual. So you've got to recognise that everyone is a living thing, intelligent people all live together in one place, you've got to count each and everybody's thinking, their contribution, their participation – that is very important. You've got to understand that. I do not very much like planning a city – here is this, here is that. I think that a lot of people contribute. So designing or planning the city, it must include consulting with the people there, who understand much more than the actual planners.
PP: I would like to hear from you, what are the urban sustainability priorities?
MM: I think efficiency is most important. In sustainability, efficiency and resource usage, including land or energy, or investment or even time – I think that is very important. If you have little resources, like water is limited, you've got to make sure that water is efficiently utilised or distributed, right? So, if you also have limited land, you've got to save all the resources you have. I mean resources in terms of material as well as living things. So, you have to also consider the people – their labor, their time, their energy – all should be efficiently used. It is not efficient if people have to go to work early in the morning and come back very late, and have very little time to spend with their family. This means you are not efficiently using their time. So the city must consider the dwellers as well as other physical resources.
This is one. And, second – you also need money, the capital to invest, right? You have to make the city economically viable as well. So, I think in that case you've got to use the labor of your residents to be more productive. Also, in order to be more productive, they should be healthy. They should be safe. They should have the time to enjoy their lives. That is also an important thing to consider. And of course, to be sustainable you have to consider the environment: protect and save, not exploit.
PP: Were you able to contribute to these priorities?
MM: Maybe not directly in all of these, but I try to disseminate the ideas, through writing or teaching the students, learning myself and sharing the knowledge; also talking like now. (laughs)
But for me, heritage conservation – cultural heritage and urban heritage – is built together. These are also resources, as assets, left by your ancestors, right? So it is important to use them efficiently at least.
PP: How can women contribute to improving cities?
MM: Women, of course, they can contribute a lot naturally, because women are responsible, right? And women are sensitive. So that's a natural born quality that can contribute a lot. And women have the traditional female wisdom, you know – "Main Ma Nyan". (Laughs) So we know how to make use of, in an efficient way, all the resources we have, all the assets we have. That's a natural born quality of women.

And in practice, women are the people who have been making the family 'move', right?, Managing their house, caring for the family, the children, elder people. They play the key role in the functioning of the household. They are running around, to a market or to school, or to work; they communicate with the neighbours. So, they know what works and what does not work, right? They know what would be more efficient.

And then if you can give a message to them, they can absorb it and they can implement it directly. For instance, on topics like waste-keeping or recycling, or planting, or growing trees. They know the distances as they are moving around. So, for example, if you are providing housing for people – maybe affordable or maybe the low income – women are the ones who can tell you more about what space to use. Because they know in practice as they are the ones covering distances across all spaces: home, school, work, shopping. There are women who can tell you a lot to create a more efficient city. And then they also know how to spend or how to save money or other resources, and then they can also influence the behavior of the family or the neighbour.

The women or housewives are the ones who engage mainly in saving for housing or implementing basic housing facilities. Women have lots of memories to tell you – the family tradition to hand over to the next generation. So, these women residents can contribute a lot.
PP: I agree. It's like women are the source of data for sustainability. And these women can be the entry point to make cities more sustainable.
MM: Sure, sure. You know, I am also one of the members in Facebook groups, like cooking or gardening. Our members are mainly women, they know a lot and they're very happy to share their expertise on efficiency – how with little resources you can expand your enjoyment.
PP: Who are female role models that inspire you?
MM: Sadly in Myanmar, there are not many women in city planning roles. I don't think we ever had a woman mayor or in the management position of the city in Myanmar. But I think nowadays we have many experienced women involved in official roles. For example, through the Yangon City Development Committee (YCDC) a lot of women have been involved as committee members and began working quite actively on city improvement.

As for foreign role models, for me it is Jane Jacobs, who had criticised city planning in American cities, which were not working, not sustainable and not so efficient. She had a very remarkable approach.

For city improvement, it's Ludu Daw Amar. She was a great researcher and wrote a lot on Mandalay and other cultural heritage, all these traits. She had done a lot for the city, especially Mandalay, as well as the streets, highlighting what works or what's better.

So I think that women writers have also done a lot. And then, nowadays, more active are women like Daw Than Myint Aung, leading "We love Yangon, Clean Yangon". In many other small organisations, women are involved in making the city better. I think of the engineers or the architects we have worked with, the Association of Myanmar Architects – many women engineers are also quite active.
PP: Last question. For young women and girls who are interested in urban sustainability – what key messages do you want to give to them?
MM: Urban planning is not just drawings, something about where to allocate things. I think that in planning you need to understand the people. You need a lot of contributions from the people and their participation. And anyone can be part of that process. Unless a public participatory process is in place, you will not have good planning. It is very rare that you start the planning of a city from scratch.

You've got to improve the settlement. You've got to understand and you have to value what the old people, old generations have left us. What is their wisdom? You've got to respect, connect the old memories, the old knowledge with modern technology. It's all of that. Anywhere you can start, you can try to improve, from the small street or from the small ward, or part of the housing project. I think you can start from anything – start from growing the trees. So, anyone can contribute to the city to become a better place, to improve the city.

What I want to say is that in planning – you can be a part of it, you can start from anywhere, with all perspectives discussed and consulted together. And use the resources, whatever resources you have to improve. But we must not decide alone – decide together.
PP: Thank you! I got three points: One is to start with very small changes to improve the city. The second point is to respect the older generation. Consider social inclusion in cultural themes, to value those themes in making us sustainable. And the third point is from the decision making point of view, to reflect policy more strategically.
MM: Yes, strategically, yes, and more public participation.
PP: Thank you so much, I also learned a lot from your opinions, suggestions and recommendations. Thank you so much for this interview, and for your time!
MM: Okay, thank you.