On 9 June 2021, The Global Future Cities Programme (GFCP) Bandung integrated transport intervention held a Focus Group Discussion (FGD) with representatives of City partners and the existing Angkot cooperation in Bandung, including representative of National Development Planning Ministry and West Java Province Transport Agency. The purpose of the discussion was to provide a session for related parties to exchange ideas and input for the GFCP programme, which focuses on developing, improving and expanding public transportation in the city of Bandung. The discussion was divided into four different groups; each covering a predetermined topic of transportation policies, the role of angkot operators, capacity building, and sustainability and inclusivity.
The City government reflected on the impact of government restrictions around COVID-19 on the programme, prioritisation of the City budget due to economic recovery and health, the need for internal capacity building and the importance of supporting regulation for creating sustainable and inclusive neighborhoods in Bandung.
At the meeting, angkot operators expressed their willingness to be involved in future development planning, while acknowledging the gaps that needed to be filled to achieve progress. The operators also raised their need for support from the City government to navigate the challenges ahead. Several actions were determined for the team, such as preparing capacity building plans, engaging closely with the Angkot operators to understand the gaps and develop a transformation strategy proposal. This is extremely beneficial to the programme in terms of aligning its objectives and adjusting its recommendations feasibility with the desires expressed by stakeholders.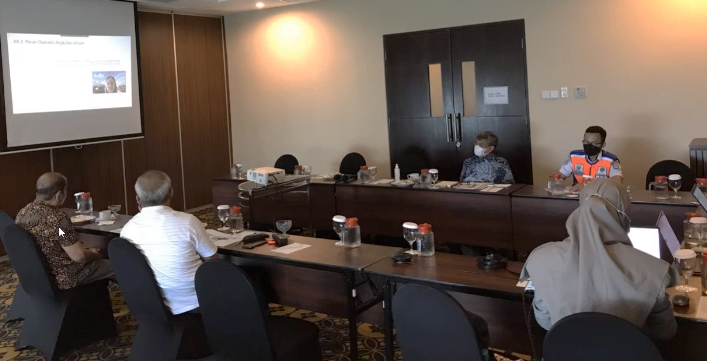 Focus Group Discussion (hybrid online and offline session) with City Authority and Existing Angkot Operators
Following the FGD discussion, a coordination meeting with The Ministry of National Development Planning was conducted on 13 July 2021, and they expressed appreciation for the programme well-managed progress, not only on its technical updates, but also on accountability.
Some suggestions were made, such as establishing a knowledge-sharing mechanism whereby the programme will be capable of retaining good lessons learned, as well as challenges, which will be exchanged with and disseminated to other cities. The session also noted the relevance of strengthening coordination at the provincial level to ensure institutional alignment. The Ministry conveyed their willingness to support the programme within the implementation period, including participation in the upcoming capacity building related to public transportation improvement. These contributions are considered as a beneficial opportunity to the programme, moving forward.
The Focus Group Discussion was a hybrid online and offline session conducted prior to the nationwide lockdown in Indonesia due to the spike in COVID-19 cases.