In November 2021, the eyes of the world will be on the COP26 Conference in Glasgow, where Indonesia will play a key role as co-chair alongside the UK government. The summit aims to bring all parties together to accelerate action towards the goals of the Paris Agreement and the UN Framework Convention on Climate Change. As a major contributor to greenhouse gases, transportation is high on the agenda.
With this objective in mind, the Global Future Cities Bandung Delivery Partner hosted a second hybrid (online and offline) workshop called 'Three Horizons' on 30th September 2021. Attending the lively event were participants from various Government institutions including those from the National Planning Agency, Ministry of Transportation, West Java Province Transport Agency, Bandung Secretary Office – Development Administration, Bandung Transport Agency, Planning Agency, Public Works Agency, as well as representatives from cycling communities and academics.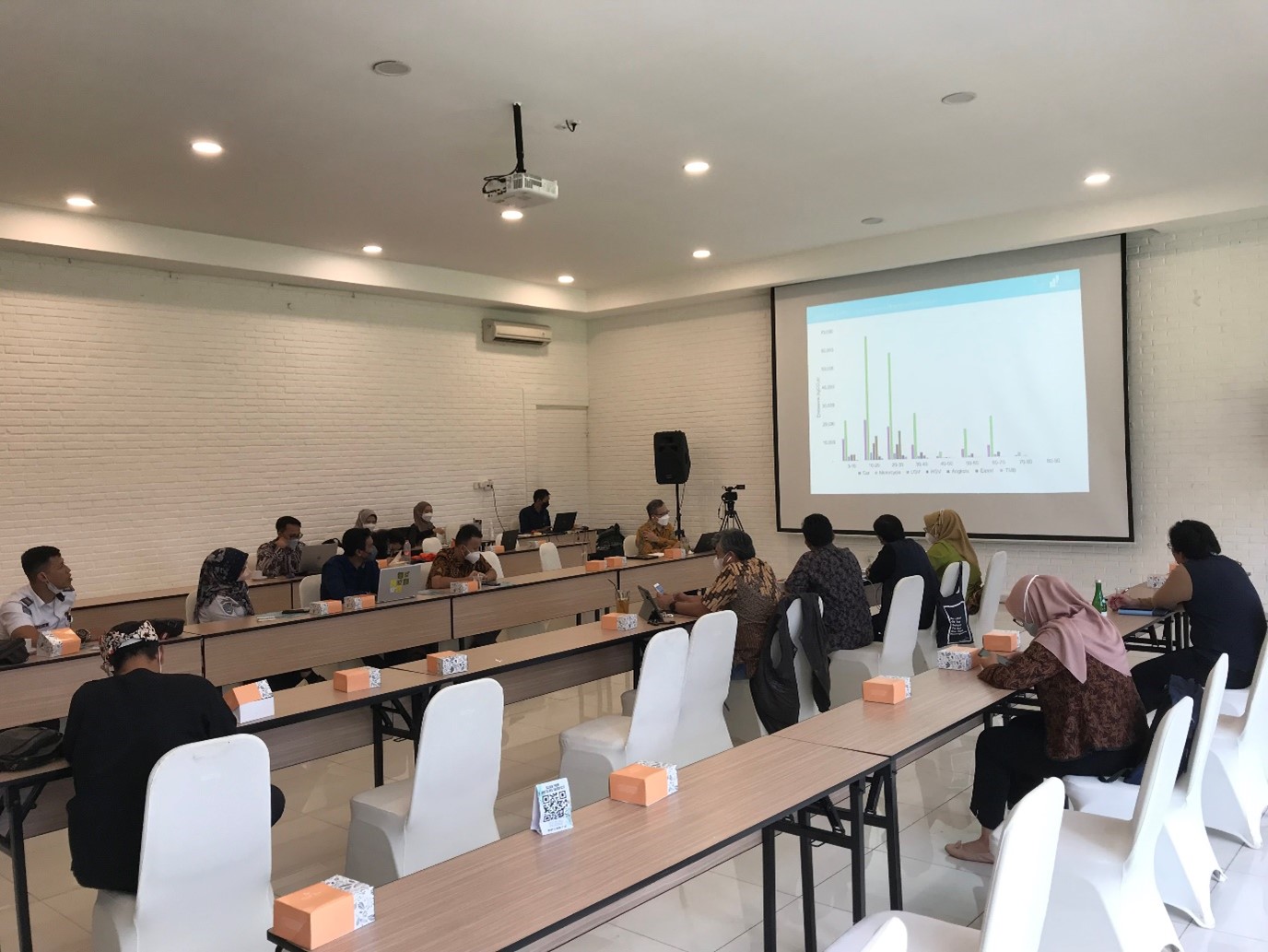 The Bandung team and stakeholders at the second hybrid 'Three Horizon' workshop.
This was a follow up workshop to the SWOT Analysis Workshop conducted in August 2021. Our team explored the low-carbon transportation choices that would be suited for Bandung City, while raising awareness about the challenges of climate change in the future. The activity is in line with one of the primary objectives of Bandung's revised regional medium-term planning; which is to be pro-environmental by reduce carbon emissions.
The discussion was broken down across three transport modes: private vehicles (cars and motorbikes), public transportation (including buses and 'Angkot' minibuses), and commercial freight. During the focus group discussions, the participants focused on four questions for each mode.
Where would you like Bandung to go?
Where is Bandung now?
What positive change is already happening in Bandung?
What new ideas, surprises, gaps, and difficulties do you see in the transition?
The responses are to analyze the most suitable low carbon transport options for Bandung. The discussion results were below in the "Avoid, Shift and Improve" template.
AVOID

Digital connectivity

- Improve digital connections to allow people to work remotely to avoid the need to travel
- Optimising online deliveries

SHIFT

Cycleway & pedestrian routes enhancement

- Road space reallocation
- New/improved cycle lanes and pedestrian routes
- Improved signalling/wayfinding
- Expanding bike sharing service
- Improved street furniture
- Campaigns to promote cycling and walking

Improved public transport system

- Bus prioritisation lanes and segregation

- Step-free access improvements

- Regulation of 'Angkots' (minibuses)

- Improved shelter and street lighting at bus stops

- Real time passenger information at bus stops

- Web-based app to include services and routes

- Smart ticketing

- Incentives to use public transport (e.g., recycling plastic waste to get free bus rides)

Freight

- Freight consolidation centre with last-mile deliveries on cargo bikes or e-bikes
- Maximise the rail freight offer
- Restrict hours that freight can travel through the inner city

Traffic

- Expansion of car free days

Parking

- Park and ride
- Improved parking restrictions

Spatial Proximity

- Transit-oriented development

IMPROVE

Traffic

- Electrify vehicle fleet (private vehicles, taxi, buses)
- Explore use of alternative fuels (e.g., biofuels)
- Congestion charge
- Ban traffic in the inner-city centre
- Improvements to intelligent transport system