January 24, 2022, marks the fourth International Day of Education. This year's theme, "Changing Course, Transforming Education," captures the urgent need to find paths leading away from inequality and devastation and the fundamental role that knowledge sharing must play to realize such change. Home to more than half of the world's population, cities aim to be front and center in the push to use education to promote social inclusion, environmental sustainability, and economic opportunities.
Building capacity through education is a critical aspect of creating better urban futures. Today we highlight how the Global Future Cities Programme (GFCP) has harnessed the power of knowledge sharing to help cities and their residents connect, learn, and grow.
In partnership with the UK Built Environment Advisory Group (UKBEAG), the UK Foreign, Commonwealth and Development Office's GFCP organized a series of workshops throughout 2021 to facilitate the distribution of knowledge and experience across the 19 participating cities in 10 countries in South America, Sub-Saharan Africa and South East Asia. Due to the COVID-19 pandemic, these workshops took the form of webinars with a range of activities including lectures by experts, presentations from city planners, and Q&A sessions about best urban practices.
The first session went live on January 21, 2021, as part of the Thematic Programme, a series of conceptual presentations delivered by subject matter experts, revolving around five key themes: "Integrated & Inclusive Planning", "Governance and Collaboration", Evidence Based Design & the Effective use of Data", "Project Finance and Procurement" and "Monitoring & Evaluation, Implementation & Enforcement."
By the end of the seventh workshop on March 11, over 500 people from dozens of cities had attended to hear from 29 speakers from public and private sectors present on topics such as integrated planning in the Bristol One City Plan and the delivery of bankable city scale projects. These thematic programmes provided a stage for planners, economists, politicians, citizens, and other stakeholders to meet, debate, and share best practice.
Overall, participants logged some 2,500 hours of capacity development as they sought out ways to make their cities fairer, safer, healthier, and more sustainable. Reflecting on the seven sessions, Kamisa Ghazali from Iskandar, Malaysia, summarized the general importance of additional open, educational events, both across and within cities: "Everyone needs to be together to get the roadmap right."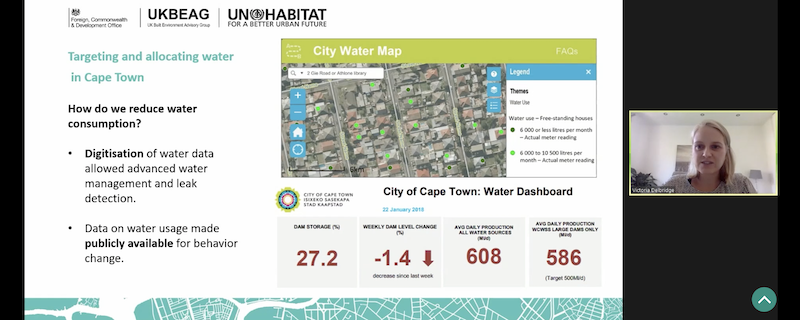 Thematic Programme Session 4: Victoria Delbridge presents on the importance of data collection for urban planning in Cape Town.
Building on the success of these thematic workshop, UKBEAG and UN-Habitat ran four City-to-City Knowledge Exchange sessions between August and November. Each webinar focused on four specific GFCP projects underway, as representatives shared successes, challenges, and proposals with each other. Subject matter experts trained in everything from urban mobility to financial management were on hand to offer feedback.
Conversations flowed freely within sessions, which lasted between two and four hours. The average attendee participated for over three and a half hours. Topics covered in each programme were diverse, spanning smart city solutions in Ho Chi Minh City and multimodal transportation in Ankara.
Across the four sessions, representatives from 21 countries and 80 cities took part. Over 360 people watched 16 city presentations, collectively accumulating nearly 1,300 hours of capacity development.
In written feedback, participants expressed uniform enthusiasm for the knowledge exchange events. "The topics discussed by the speakers [were] very relevant to my city and the outputs are impressive," wrote one attendee. "Overall, it's excellent," said another, "especially the lively discourse and gaining insights from lots of parts of the world." Many appreciated the inclusion of external documents as additional resources and the ability to contribute to the discussion through open comments and questions.
Participants also recognized the practical benefits of each session. "I learnt how to implement key element[s] of city data strategy that will improve the well-being of residents," one observed. "The series as a whole is highly educative," another concluded, as it provided the "useful information and strategies on sustainable cities [that] are paramount for adoption in various cities of the world."
These events went beyond facilitating high-level conversations about city planning and sustainable growth. They gave participants real-world experience and tangible skills that could be applied at home. "Knowledge from the success of other cities," an attendee wrote, "will be helpful and useful in formulating policies for the development of our cities, especially my ministry."
Learning is a lifelong enterprise, and the GFCP's capacity building activities are ongoing. Since completing thematic and city-to-city exchanges, the programme has played host to a number of in-country workshops. A November event in Indonesia, for example, centered on "An Innovative Approach to Urban Planning and Risk Insurance." The GFCP will also run a Leadership Forum in February that will give representatives from participating cities a chance to celebrate the progress made so far, reflect on lessons learnt along the way, and think about next steps as projects move from design to implementation.
As it works to spread the knowledge and expertise necessary to achieve sustainable urban development, the GFCP hopes to spread an appreciation for the basic act of knowledge sharing. Education may be a fundamental human right for all individuals, but it is also a collective endeavour. On this International Day of Education, it is worth remembering that cities (and the people that make them) have much to learn from one another.