Global Future Cities Programme (GFCP) Bangkok has successfully 'onboarded' our city partner, the Bangkok Metropolitan Administration (BMA), onto our new Decision Support System (DSS) for Flood Management. This a key milestone in the programme of the intervention. BMA's understanding of the use of the DSS and all its functions, and their ability to regularly access it, is vital to their long-term adoption of the tool into their flood management operations.
Our team has so far completed four onboarding workshops with BMA to introduce them to the new DSS platform, which was developed inhouse and hosted in Moata, showing them how to use all the functions. Following these workshops, BMA can now log-on to the platform at any time to see data such as historic, real-time and forecasted rainfall for the study area, including a live rainfall nowcast, and flood predictions. The team also used the sessions to obtain feedback from BMA on their experience of using the platform and considered how to modify the platform to suit their requirements.
As part of the DSS intervention's Monitoring, Research, Evaluation & Learning (MREL) activities, the team asked the BMA attendees to complete an evaluation questionnaire for the onboarding sessions. The resulting scores had an average of at least 4 out of 5 for all questions. For example, the respondents rated that they "Strongly Agree" (with an average score of 4.33 out of 5) for the relevance of the sessions to their current roles/duties. The question "was the communication of the content of the sessions appropriate" received the same average score.
These evaluation results are a key indicator of the successful onboarding of BMA to the DSS platform, a crucial step in ensuring the long-term adoption of the DSS and success of the intervention.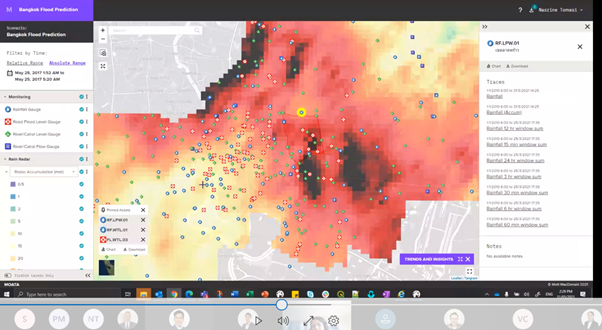 Introducing the new DSS platform with City Partner (BMA) during the 'onboarding' session previously via MS Teams call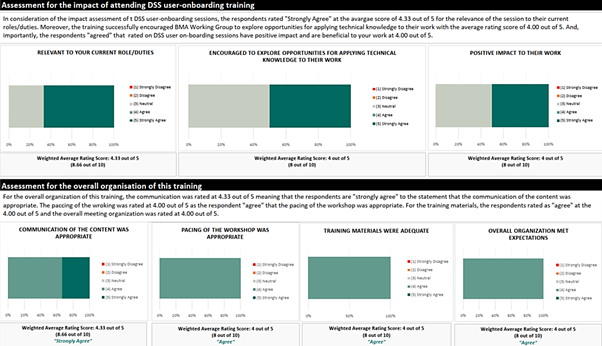 Screenshot of tabulated questionnaire results gathered from users who attended onboarding training
Read successful 'onboarding' session on new digital platform for flood management here.